Pin It
September is National Sewing & Quilting Month! Are you starting a new project to celebrate? If you're like me, you don't really need a reason to start yet another project..... :) But, yeah, of course! Who can resist a new project and maybe some new fabric to honor sewing and quilting this month.
Fat Quarter Shop
is helping kick off the month right. They have asked some bloggers to share a bit about their start in sewing or quilting - and then they issued a challenge. The challenge is to sew something outside your comfort zone. I love a good challenge..... and if you've been reading here this summer, you'll know I already challenged myself to step out of my quilting comfort zone and try garments. I'll show you my latest project further down in this post.... I am so happy to be a part of this industry because I absolutely love creating one-of-a-kind items.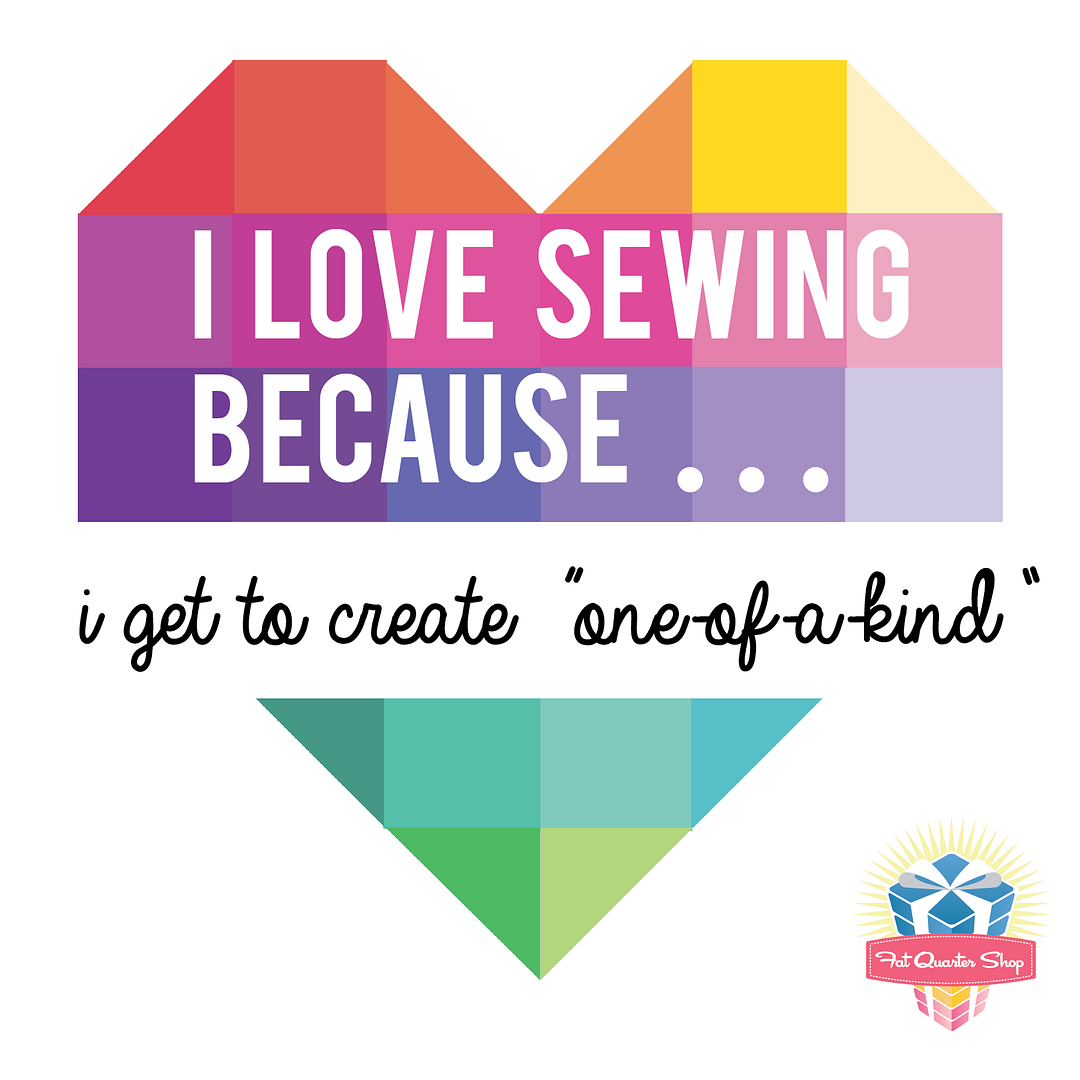 FQS
:
How did you start quilting?
When pregnant with my first son, I decided I wanted to make him a quilt. I had been gifted a sewing machine for Christmas that year, but it hadn't even made it out of the box. I absolutely cannot tell you why I chose a quilt. I may have remembered trying to make a patchwork blanket for my dog growing up - but it never made it's way past a bunch of cut up squares. I had no idea what I was doing (i.e. it's not really a quilt - I didn't know to quilt it), but somehow I was uber-proud of my completed
Winnie-the-Pooh Joann's flannel blanket
.
FQS:
When was the first time you knew that you were a quilter?
After that first experience, my interest in quilting grew. First, it was just buying a magazine. Then a book. Learning with each project. I thoroughly enjoy learning new things, and I found that each project taught me something. I continued to sew almost exclusively quilts or quilted projects. But I didn't really consider myself a true quilter until I made my first fabric purchase without a project in mind.
Stash.
Oh my gosh. A whole new concept. That first purchase for my stash changed me from just a casual quilter into a die hard.
FQS:
Do you have any quilting horror stories or faux pas?
It's not so much a horror story, as much as something I was scared of. I remember trying to hide in the corners at quilt shops sometimes, trying to pick out my fabric without anyone asking me any questions. I was new and didn't know what I was doing. I am so sad that I once felt like I should avoid fabric shops because of my skill level. Some fabric shops are friendlier than others to newbie quilters. I remember not wanting to be exposed as not knowing what I was talking about around all the seasoned ladies. Fortunately, sewing has had a revival since I started sewing 9 years ago, and now I hope that new sewists are seen more frequently and welcomed in local shops.
FQS:
What advice do you have for beginners?
It doesn't matter how many quilts you have made, there is always more to learn. That is what is fabulous about quilting. It keeps every project interesting. So just start somewhere. With each project, you will learn more and more. Don't be afraid to make mistakes - it's how we grow and learn.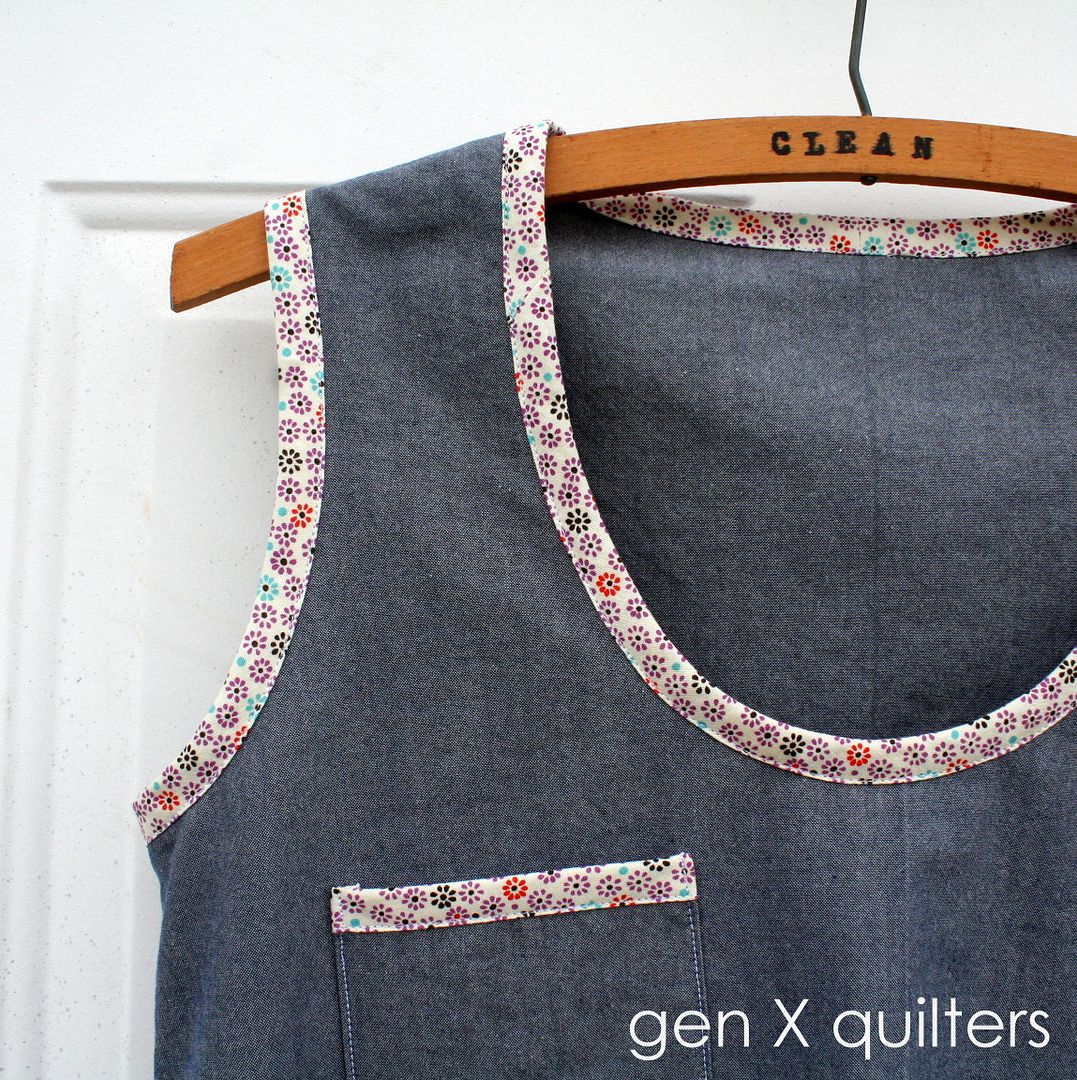 Now.... the challenge! Earlier this summer, I started making
Wiksten Tanks
as a novice garment sewist. It has taken me 3 tries to get it right. I am not complaining.... because as I said above, with each project I learn a little more. On my third try at the
Wiksten tank
, I was able to combine two different sizes of the pattern to customize the fit just for me. I made an XS and it was too tight - the S was too big. Porridge, right? So I combined the patterns by using the XS neckline and shoulder strap with the S armhole and sideseam. Hooray! I love the way it fits now. I also add about 1"-1.5" to the length of the top to make it hit my hips at a more flattering location.
In another new-to-me endeavor, I added bias tape accents (in this awesome DS print) to the hem, neckline, sleeve and pocket. I love the detail it adds to the chambray. I've never sewn with
chambray
before. Oh man, you have got to try it. So pretty!
How will you celebrate National Sewing and Quilting Month? If you need help getting started,
Fat Quarter Shop
has worked up this
free pattern
just for you. Thanks for stopping by!
Pin It