Pin It
Today is the day! The unveiling of 2014's Block of the Month - the Vice Versa BOM. Oh, I could hardly sleep last night. :)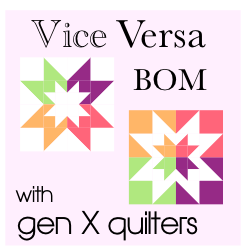 An
annual subscription for the BOM
is available
here
. All patterns are PDF downloads, automatically emailed to you each month.
When you subscribe, a Vice Versa Introduction PDF (All important information and Guide to Choosing Fabrics) is emailed right away.
The Vice Versa Blocks.
The blocks used in this Block of the Month project were chosen for their polarity. The ability to construct the blocks with positive and negative space - and then invert them. With each block, there will be two sides to each coin. One where you put the background fabrics in the most "common" locations. The second block will be the reverse - putting the color in the background.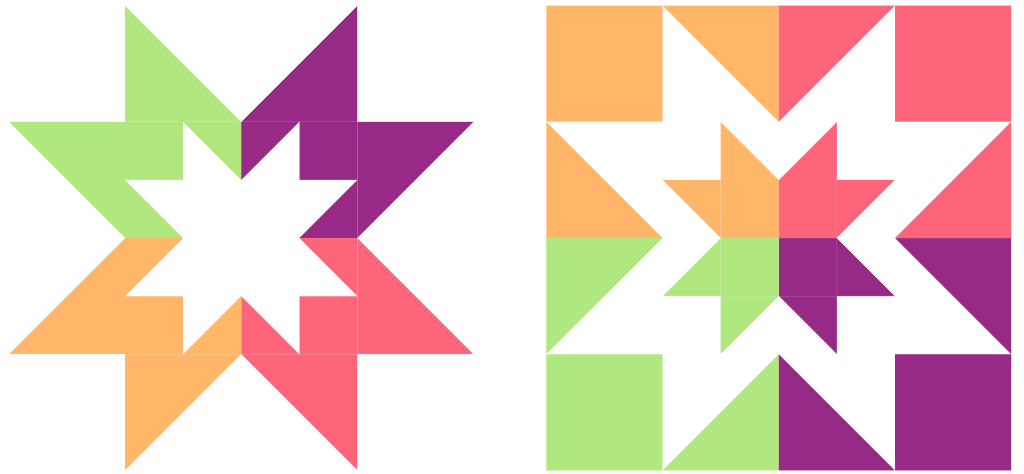 The blocks above are the same exact block. A star within a star. The left and right blocks are inverses of each other. Yin and yang if you will. They are opposing, yet complimentary blocks. And when the two combine, the whole is greater than the separate blocks by far.
The Design.
A fun and funky layout for the BOM - blocks will be set on-point. Look closely, there are only 9 blocks. 8 blocks have a "twin" - it's inverse. The 9th block is the striped block that acts as bookends.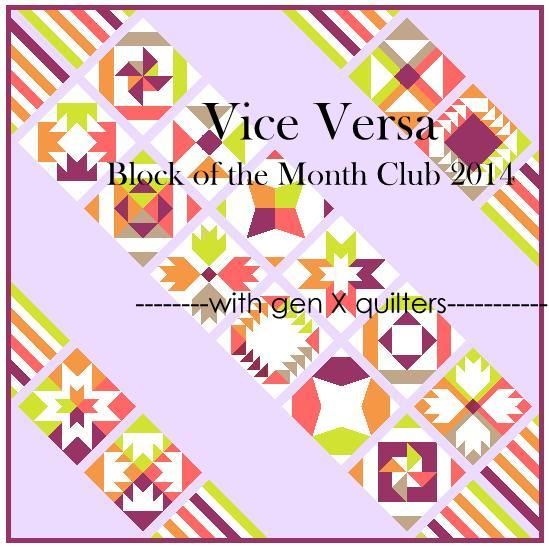 Frequently Asked Questions.
1. When are the new block patterns released? Each month in 2014, a new block pattern will release on the first Friday of the month. If you are a subscriber, the pattern will automatically be emailed to you on this day.
An Introduction - all important information and guide to choosing fabrics

Instructions for cutting larger background negative space and sashing

9 Block Patterns (1 each month)

Instructions for Assembling the Quilt Top - On-point setting

Suggestions for quilting the quilt
2. How long does the BOM run? This BOM will run for 11 months. January though September will have block patterns each month. October and November will be spent finishing the quilt.
3. How many blocks are there in the quilt? There will be 9 block patterns. We will make 2 of each block during the month. The exception is the last month - the striped block. We will need more of those!

4. What size is the finished quilt? There are two finished sizes of the quilt depending on the block size you choose.
Lap. 56.5" x 56.5" (9" finished blocks)
Large Twin 73.5" x 73.5" (12" finished blocks)

5. What size are the blocks? You may choose to make the blocks as either 9"x 9" (Lap) or 12"x 12" (Large Twin) finished. Cutting instructions will be given for both sizes.
6.
What skill level is Vice Versa?
Vice Versa BOM is a
Confident Beginner - Intermediate level quilt pattern. We will build these skills:
work on color and value within blocks, master block basics like half-square triangles, flying geese, hourglass, stitch-n-flip, and on-point block setting. The blocks are in order of increasing difficulty.
7.
What are the fabric requirements?
3/4 yd each of 5 colors – OR-- 15 fat quarters total (3 FQs each of 5 colors)

1 3/4 yds white

2 1/4 yards background and sashing
1 yd each of 5 colors – OR-- 20 fat quarters total (4 FQs each of 5 colors)

2 1/4 yds white

3 1/4 yards background and sashing
8. I like the Vice Versa blocks, but prefer a more traditional setting. Can I still join? Absolutely! You are more than welcome to join the BOM. If you prefer, set the blocks in a more traditional manner. However, I will only be giving finishing instructions for the modern layout above.
9.
It's already halfway through the year. Can I still join?
No problem! Block of the Month Clubs online are great because you can really work at your own pace. No one is going to prevent you from skipping a block because you don't like it or working at your own pace, be it ahead or behind.
To me, quilting is fun and about interpretation. I am providing you with the patterns as a guide. Feel free to adapt them to your liking. After all, YOU are the person who will keep the quilt or gift it to a loved one.
10.
Is there a flickr group for this BOM?
Yes - please join the
Vice Versa flickr group
here. It is more fun when we can share our fabric selections, progress and blocks with each other. Also, if you are on Instagram, use #viceversabom to share with us there.
What do you think? Sound like fun? I hope you'll join me! I am so excited to be starting this new and funky BOM with you. The first block instructions will be available on Friday, January 3, 2014. If you have any questions, please leave me a comment. I will try to address all getting started questions here in this post for all to read.
Grab a button....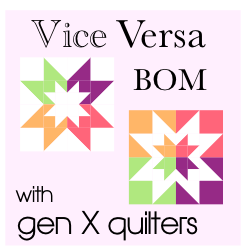 Come back here next Monday....
In one week, on Monday, Nov. 18, I will post color inspirations and some bundles being offered by gXq sponsors for the BOM. I am so excited to be using
Art Gallery
Pure Elements Solids
for my quilt! (More details on fabric selections next week!)
-----------------------------------------------------------------------------------------------------------------
Purchase your
subscription
today, and you will automatically be emailed the
Vice Versa BOM Introduction and Guide to Choosing Fabrics
.
Pin It