Pin It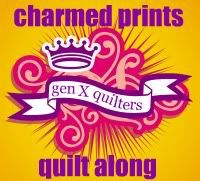 Welcome to the first week of the
Charmed Prints QAL
Link up! Anyone participating in the quilt along may join me in showing some progress on the project over the past week. Don't worry if you're behind - or if you're just getting started!! Please join in on the QAL at any time.
This week we were choosing our fabrics for the QAL. The whole idea for the quilt along stemmed from a couple of the swaps I've hosted here at GXQ over the past year. There have been 2 rounds of the
Japanese Imports Swap
(the second one in progress!) and one
Spoonflower Swap
. Those involved in the swaps traded charms and as a result have a very unique collection of novelty prints.
Japanese Imports Swap I
Spoonflower Swap
(both photos for the swaps are credited to Lindsay/
Lindsay Sews
.)
I started planning for the quilt-along over the summer, about the same time I found out I was pregnant. I had promised a quilt along to those involved in the swaps, but I didn't intend to take an additional 3 months (read: trimester) to get started! SO! Here it is - better late than never right?
And let me tell you, it's a very good thing this QAL was delayed quite a bit because I found the inspiration for the quilt at the
Sewing Summit
. Amanda of
MsMcPorkchop Quilts
gave such an inspiring class. She talked about how each mini quilt tells a story and she fussy cut a bunch of cute novelty prints to frame the story. Light bulb! The perfect use of the charms we traded for the swaps.
I picked out my favorite charms from the bunch and noticed most had blues. So I decided to definitely make it a boy quilt. Many of the charms also had orange accents, which I thought unusual - but I love orange and all the warm colors. So it naturally had me combing my stash of oranges.
I think many of you are still waiting on your fabric.... link up here if you get a chance. I'd love to hear what you picked and why.
Tomorrow the Layout Planning and Cutting Instructions will post. See you then!
Pin It