Pin It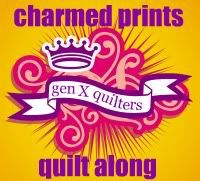 So here we are! Week 1 of the Charmed Prints Quilt Along.... the really fun part, picking out fabric!
First, let's get the serious business out of the way.
Week 1 11/1 Schedule and Fabric Requirements
Week 2 11/8 Cutting and Layout Planning
Week 3 11/15 Star Block Instructions AND 11/16 Greek Cross Block
Week 4 11/22 Diamond in the Square Block Instructions AND 11/23 Pinwheel Block
Week 5 11/29 Assemble the Quilt Top
Week 6 12/6 Quilting and Finishing
Week 7 12/13 Completed Quilt
12/20 GiveAway Winner Drawing
There are 4 feature blocks in this quilt. As I mentioned, most of the charms will remain full 5" squares. In Weeks 3 and 4, I will give 2 block tutorials each week. I decided to separate them into Tuesday and Wednesday posts so the instructions for each block are separated. I intentionally put the more difficult blocks in Week 3 and the easier blocks in Week 4. Week 4 is Thanksgiving week and I assume a lot of us will have turkey hangovers and be spending time with family. So that is why the simpler blocks are in Week 4. I hope that helps everyone keep on pace if you're trying to finish by Christmas.
Baby/Child Size Quilt 47" x 47" (6 x 6 charms)
Lap Size Quilt 66.5" x 66.5" (9 x 9 charms)
FABRIC REQUIREMENTS:
| | | |
| --- | --- | --- |
| | | |
| | | |
| | | |
| | | |
| | | |
| | 3 yards (2 ¼ for pieced, scrappy back) | |
| | | |
| | | |
| | Leftover charms or coordinating scraps for feature blocks | Leftover charms or coordinating scraps for feature blocks |
Note:
Most charm packs include 42 – 5" squares, but pay attention to the quantity when ordering.
Selecting your fabric: Pick out fabric that you love! Since most of you will be buying precuts of charm packs, the hard part is mostly done for you. The charm pack already contains a full line of coordinating prints. This can be an I-Spy quilt, so if you're inclined, choose a line that has some novelty prints to fussy cut in your feature blocks.
You will need to select a neutral sashing to really show off the charms and a border print that picks up one of the main colors of the charm pack.
To make the feature blocks, you will need either leftover charms or small scraps that coordinate with the fabric line you have chosen. *Note: The Lap size quilt uses all of the charms if you buy 2 charm packs. This quilt is meant to be customized, both with the number of feature blocks you use and your fabric selection, so don't feel restricted to only working with the fabric line you've chosen for the charms. I think you'll be surprised at how you can find other prints in your stash that coordinate and highlight the prints from different lines. Everything doesn't have to be perfectly matchy-matchy unless you like it that way.
Here are my choices: I've decided to make a "boy" quilt with blue and orange accents.
charms: assorted charms from GXQ's Japanese Imports and Spoonflower swaps. Plus a few other Japanese fabrics from my stash.
sashing: Essex Linen in Natural
border/binding: orange gingham from Riley Blake
flange: Kona Amber (not pictured)
assorted coordinates for feature blocks: all from my stash, picking up the oranges or blues in the charms. Some Katie Jump Rope, some more gingham, etc....


To add a little pizzazz to finishing the quilt, I will be including a flange before adding the binding. Go here to see what a flange is. I plan on using a solid to give the quilt just a little punch. This is also optional - but fun I hope!
Other suggestions to get you thinking?
Cape Ann by Oliver + S/Moda
Little Apples by Aneela Hoey/Moda
Flurry by Kate Spain/Moda (I'm so tempted to do an Xmas one with 12 Days of Christmas from Kate last year)
Sherbet Pips by Aneela Hoey/Moda
ok, there are SO many Riley Blake prints with cute novelty charms, I'm just linking to the whole page...
Hideaway by Lauren and Jessie Jung/Moda
...the list is endless...
Don't forget to join the Charmed Prints QAL flickr group and add your fabric selections to the group. Is it SO fun to see what everyone else is picking!
**NEXT week on MONDAY, NOV. 7 will be the first Charmed Prints Linky Party - so if you would like to blog about your progress during the quilt along, you can link up here on Mondays and see everyone else's posts.**
Pin It