Pin It
It's time to celebrate the County Fairs of Summer with Gen X Quilters'
Summer Fair: A Quilt and Recipe Show!
The Fair starts today!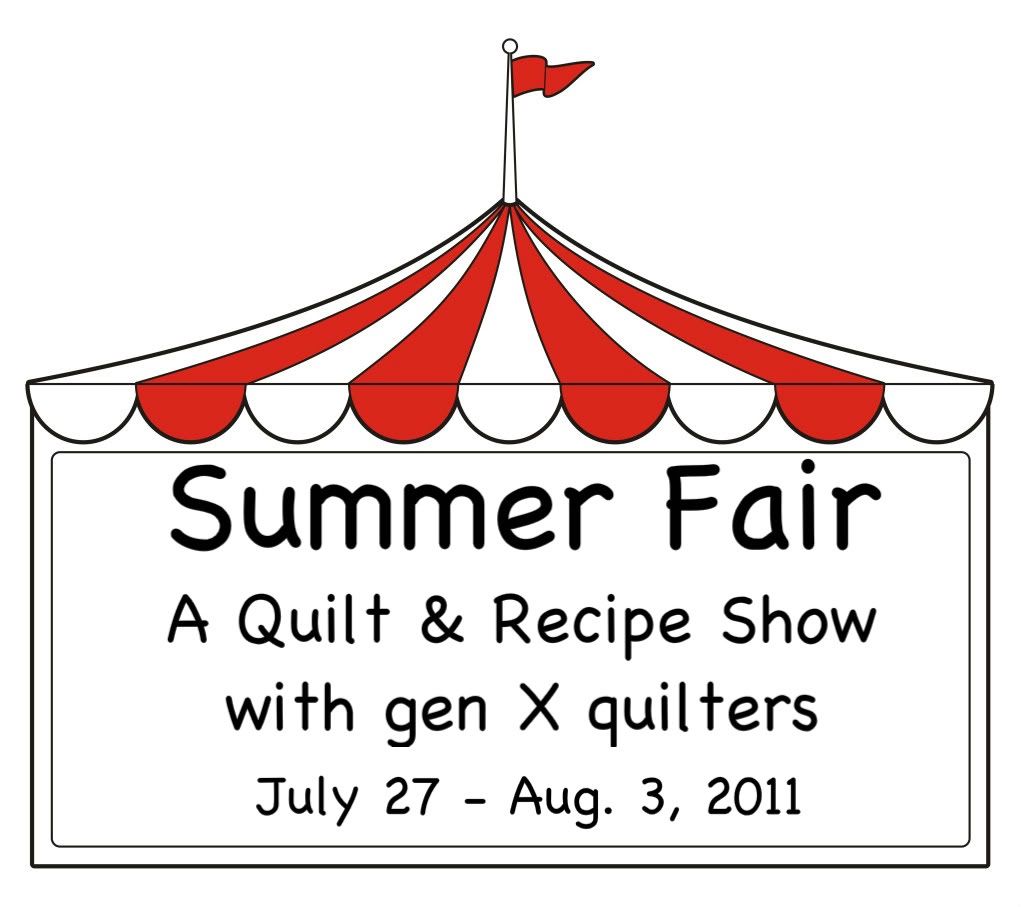 Don't know about you, but the county fairs are pretty big here in the midwest.
I've always thought it would be fun to enter a quilt in a show at a Fair. But the fair entries here tend to be very traditional. Cooking and recipes for jams, jellies, barbeque, baked goods, you name it(!) are also are also pretty neat competitions.
So with the sweltering heat outside, let's make a little County Fair right here in blogland. In the air conditioning of your living room, paruse the entries. Enjoy some quilty inspiration and some down home cookin'.
Summer Fair has 2 parts.
1. Quilts
2. Recipes
Each person may share 1 finished quilt and/or 1 recipe in the linkies below.
If you don't have a blog, use flickr to participate - you can always add your story/recipe in the description.
(quilts and recipes don't have to be new - just make a new Summer Fair post)
Bloggers:
1. Write a post on your blog for your quilt and/or recipe entry. Tell us all the details... if you would like to include both a quilt AND a recipe in the same post - that is a-ok! Be sure to list them separately though on the linkies.
That means link up a picture to your quilt in the "Quilts" section....and ALSO link up a picture of your recipe in the "Recipes" section. Both may point to the same post.
2. Include a link to this page in your post. The easiest way is to just copy and paste the button code right into your blog post.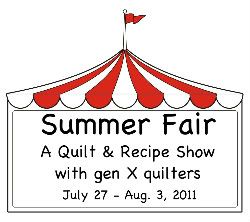 3. After you write your post, come back here and enter it in the linky below. Please make sure to link to your specific blog post (not just your blog) in the linky.
Flickr Entries:
1. Upload a quilt or recipe pic to flickr and add information in the description to give us some details.
You can then use the flickr URL as the link when adding your entry to the linky.
2. Also include a link to this post in your flickr description.
To be eligible for the prizes, you must submit your entries during the week of the show (July 27-Aug 3) in a comment on this post. Enter one comment for your quilt entry. Enter one comment for your recipe entry.
At the end of the day on August 3, the linky lists will be closed. Then Mr. Random Number Generator will choose the winners of the prizes. If you submit both a quilt AND a recipe, you will have 2 chances to win. You can also only do one or the other if you want!
A special THANK YOU to Summer Fair's sponsors!
Click here to find out all the prize details
.
So sit back and enjoy the show!
Pin It