Pin It
It's that Kona Color Card that started it all.... seeing all 200+ shades displayed in one place..... and wanting MORE!!
My new found fascination with Kona Solids is going Swappy in the New Year! Wanna join in?
Gen X Quilters' Kona Your World Fabric Swap
This is an opportunity to
join
a
new
centralized
swap
to receive a rainbow of new Kona colors to expand your stash of solids.
1. Each swap member will send 12 Fat Quarters of Kona Cotton Solid fabric to me.
Fabric must be cut into Fat Quarters (18" x22"). 12 FQs = 3 yds total
2. Each FQ must be labeled with both your name AND the Kona Color Shade. (Make sure to put your name, so you don't receive your own fabric back!)
You may send any combination of colors you like - all one color or several shades. It's entirely up to you! Kona Solid Fabric must be new and unwashed.
1. Your package of 12 Kona FQs (labeled with your name and the Kona Shade) should be placed in a ziploc bag to protect the fabric. The fabric fits into a 9 1/2" x 12 1/2" mailing envelope. I recommend using the USPS Priority Mail Flat Rate Envelope, which costs $4.90 for shipping in the U.S.
2. Included inside your package, please put another Self-Addressed USPS Priority Mail Flat Rate Envelope for me to mail the swapped fabric back to you. Postage is paid on these packages at the time of shipment.
3. There will be a shipping and handling charge of $6.00 to have the swap sent back to you. I will request the payment via PayPal. Payment must be complete prior to the shipment of your package!
Once I receive every one's FQs, I will sort them out and give you back an array of 12 beautiful new colors for you to try!
To Sign up for the Kona Your World Swap:
This swap will be limited to 50 participants. Sign ups start today and end 12/31/2010 or until the cap is reached.
FQs must be mailed to me by Jan. 31, 2011.
I hope to have the packages back to you within 2 weeks - for a Happy Valentine's Day I guess!
(Participants must be in the U.S. or Canada please.)
And here's a button to spread the Kona love....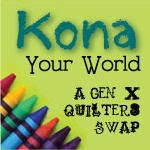 A big Thank You to
Lee
, who designed the button too!
Pin It