Pin It
Let's hear it for GXQ's first Quilt Show! In the spirit of the season - it's the.....
1. To enter, you must be a quilter in Gen X or Y and a follower of this blog (sign up now if you aren't already. This includes feed and email subscriptions).
2. Quilts must be finished (quilted and bound) and have a Halloween or Spooky theme. No block or quilt top entries.
3. Quilts can be any size to enter - and they must be quilts! No quilted accessories, toys, etc.
4. Submissions will be accepted until Saturday, October 23, 2010.
5. Everyone will vote for their favorite! Voting will take place here at GXQ from Oct. 24 - Oct. 29, 2010.

The winners will be announced on Saturday, October 30, 2010.
Grand Prize Winner
- The quilter whose quilt receives the most votes will receive a $35 gift certificate to
Above All Fabric
.
1st and 2nd Runners Up
- Will receive $10 gift certificates to
Above All Fabric
.
A big THANK YOU to Melanie at Above All Fabric, who has graciously offered to co-sponsor this contest with GXQ!!
So let's see those Spooky Quilts!
(there's plenty of time to whip up one of those cute
monster blocks
I've been seeing on flickr...)
When adding an entry to the Flickr group, make sure to put the next sequential number before the title of your quilt. (I labeled mine #1 since it is the first entry. The next entry is #2, etc.)
You do NOT need a blog to enter. Just post the quilt photo to Flickr and add it to the group.
And grab a button - you can shamelessly plug your own quilt for votes!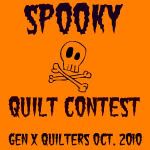 Pin It