Pin It
I thought maybe we could try a little swapping fun here at Gen X Quilters. Can you tell I've been getting into the holiday mood with the stocking?
Gen X Quilters' Ho-Ho-Holiday Swap
This swap will consist of:
1. Three (3) Fat Quarters
2. One (1) Handmade Holiday ornament
Won't it be fun to get something new in the mail? Who doesn't love getting presents?
Sign up before
October 1, 2010 to be included!
Here are the specifics:
Fat Quarters Fabric Swap
-Quilt shop quality fabric only
-Fat Quarter must be 18" x 22"
-"Holiday" colors: fabric must be shades of red, green, or white. It doesn't necessarily have to be holiday fabric, but should keep to the seasonal colors
Fabric Swaps must be mailed by: November 1, 2010
Holiday Ornament Swap
-Using at least one (1) of the fabrics received in the swap, make an ornament to send to your partner. Try to get to know your partner through email and visiting their blog (if they have one) so you can make something they really like (and make a friend too)!
Ornament Swaps must be mailed by: December 1, 2010
Pictures
of the ornaments received from the swap will be posted on
GXQs' flickr
so we can all see the fun creations of other swap members.
Fine print:
If you think you may not be able to complete the swap, please don't sign up. Your group members are counting on you!
Since this is my first time hosting a swap, I'm going to keep it just within the U.S. for right now. Sorry!
If you would like to participate, send me an email (genxquilter@gmail.com) with your name and address by October 1, 2010.
You will be put in a group of four and partnered up. You will send a fat quarter to the other 3 members of your group and one ornament to your partner. I will get the information sent out within a week (by 10/08/10).
Also, please leave a comment so others can view who is participating
. I have no idea how many swappers to expect, so please bear with me. Hopefully, we will have a bunch of fun ornaments to share in December!
Grab a button to spread the word! This will be fun....thanks for playing!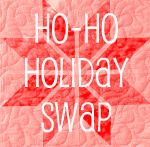 Pin It