Pin It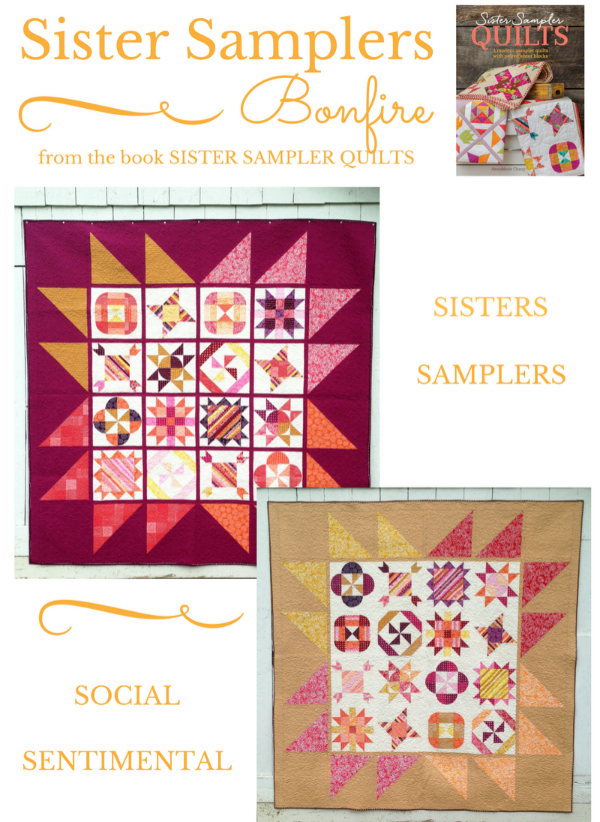 Oh my gosh, it's the final post for the Bonfire Block of the Month Club 2016. Every year we complete one of these journeys, it seems like a wonderful experience. How can each year get better and better? And w
hat a year it's been. The Bonfire Sampler is a part of my first book, Sister Sampler Quilts. And to run a BOM from my own book,
well.... that's seriously a dream come true. Thank you all for your love and support of the book this year.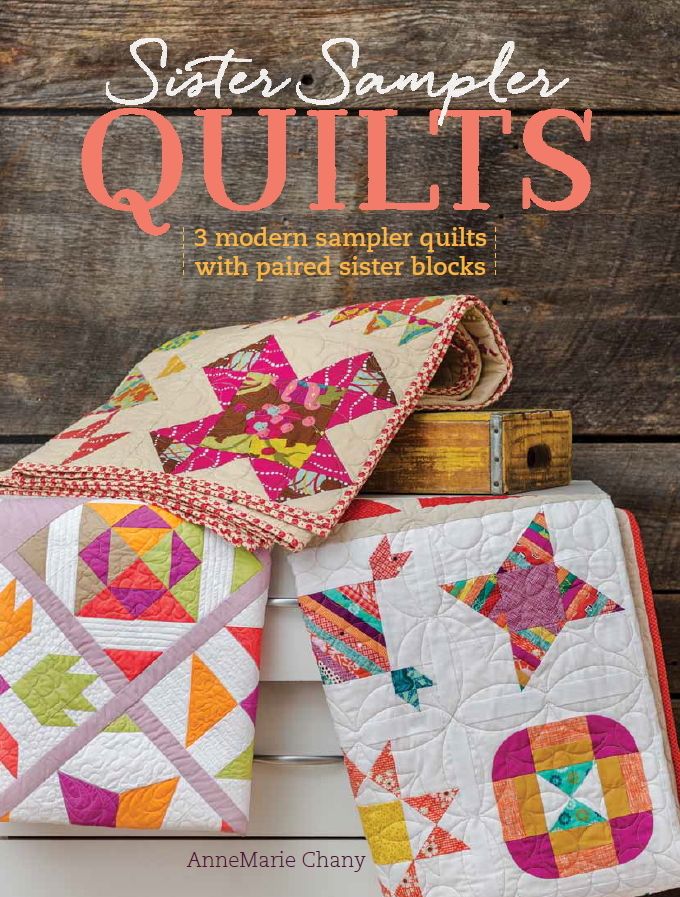 I have not one, but two quilt finishes to show you today. Those of you who have been following along with the BOM know how special these two quilts are.
At the beginning, I encouraged participants to partner up with a "sister". Someone to sew along with and trade blocks with to make 2 similar, yet different quilts. I partnered with my mom and we have spent the past year sewing our blocks, sharing pics and color combinations, and trading blocks to make 2 very special quilts. Since we have never worked on a project together before, this BOM holds a special place in my heart.
Here is my Bonfire Sister Sampler Finish: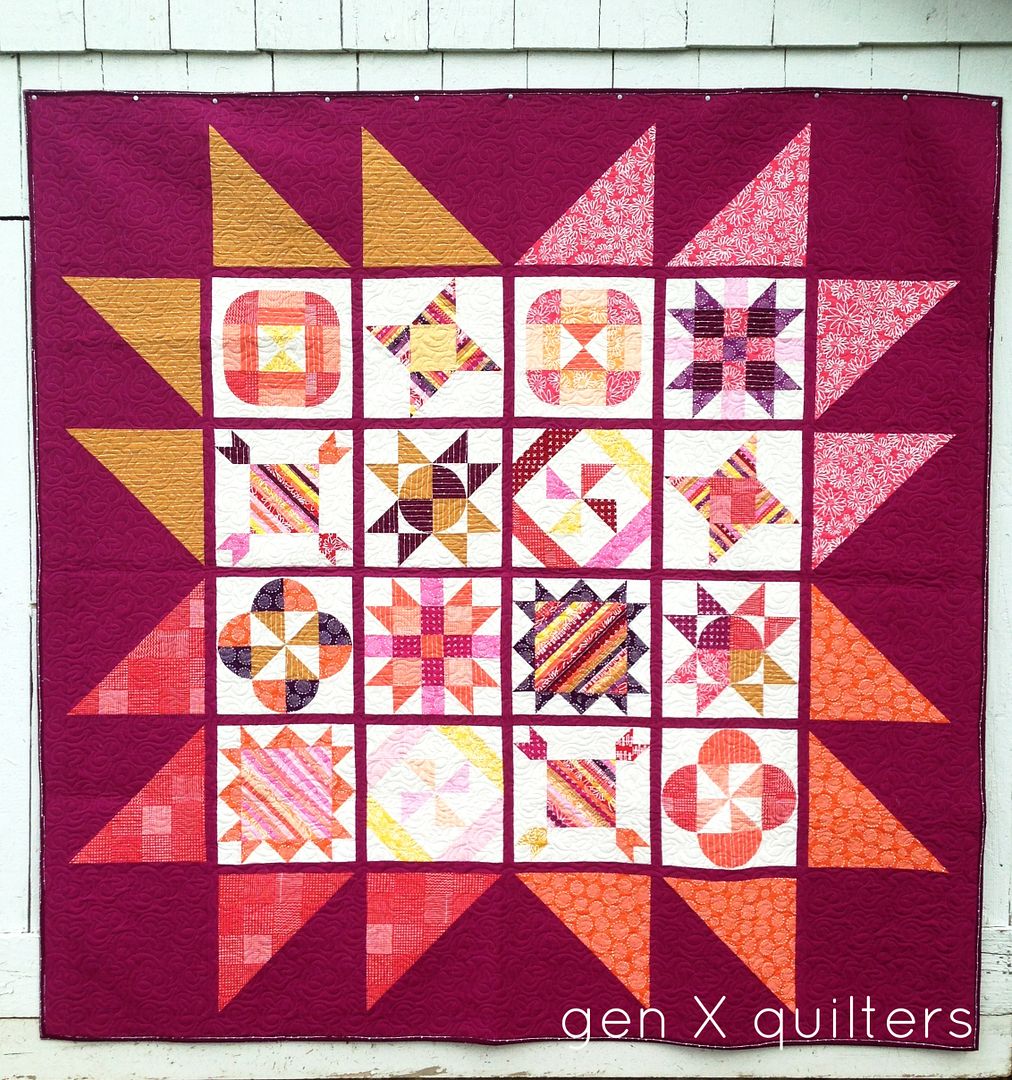 We both worked from a fat quarter bundle of Blueberry Park (warm colors) by Karen Lewis for Robert Kaufman Fabrics. The blocks use Kona Snow as their background, and I framed up the whole quilt using Kona
Cerise. It's definitely a different look from the original Bonfire quilt found in the book. There is a picture of the original Bonfire at the end of this post if you don't remember what it looks like.
Mom's Bonfire Sister Sampler Finish
: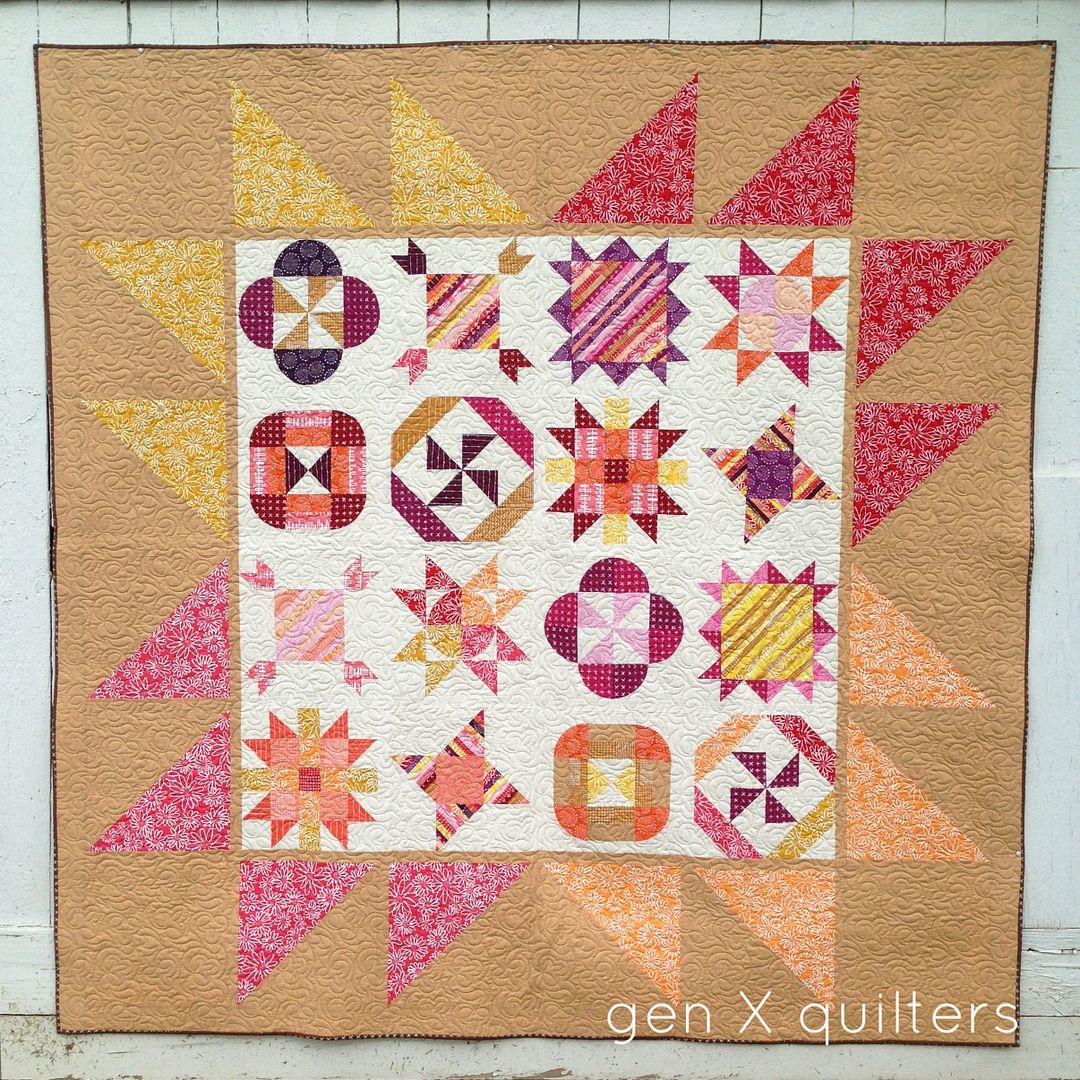 Mom went for a subtle look, using RK Quilter's Linen as her background for the star points. She also used Kona Snow as the background for her block work, so both of our block sets were pieced using the same block background color. It makes the whole quilt flow nicely. I like how she selected the same large scale daisy print in 4 colors to be the large star points in the quilt setting.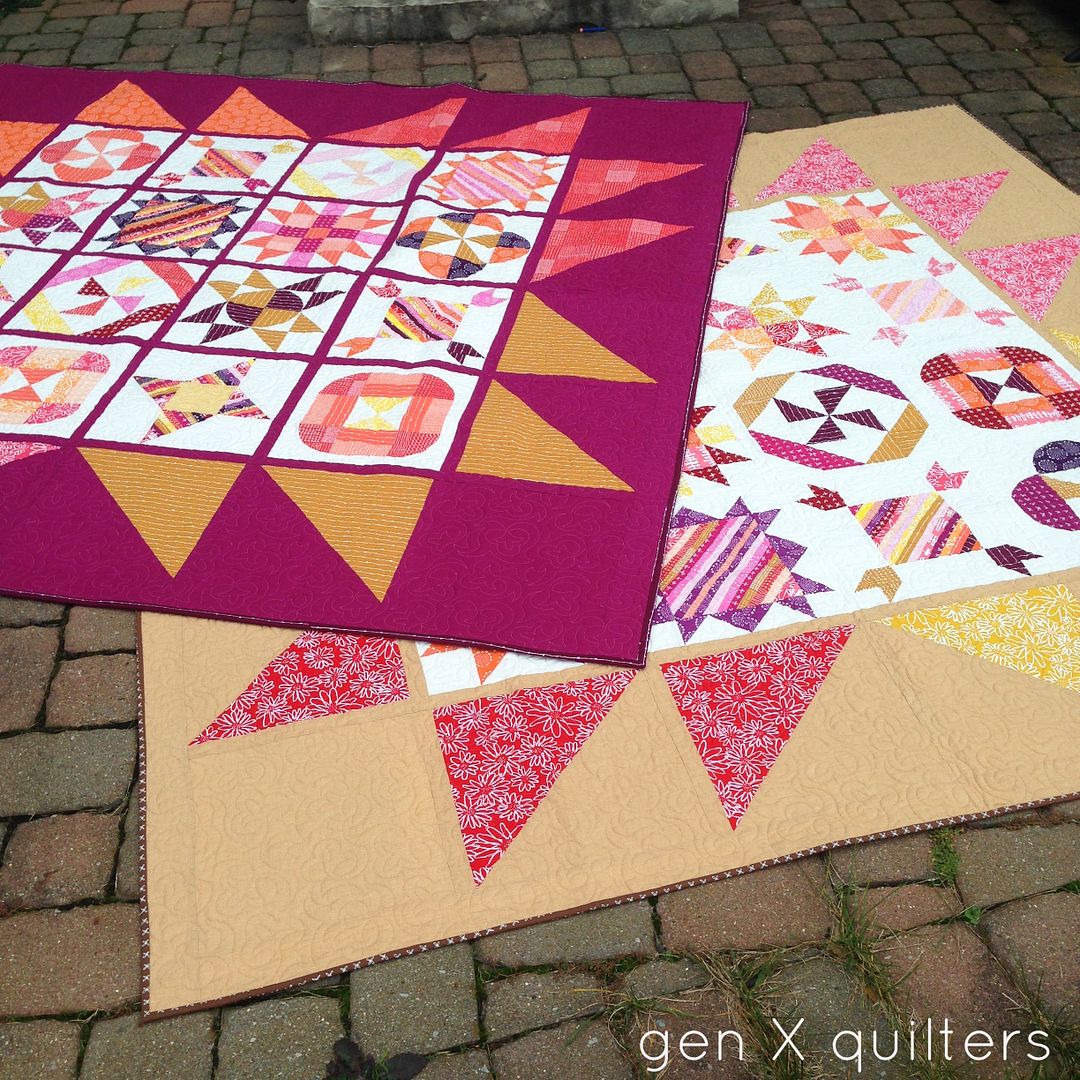 Although our BOM is now officially over, it's never too late to start this project on your own or with a friend. You can read all the details of how we worked this project
here
.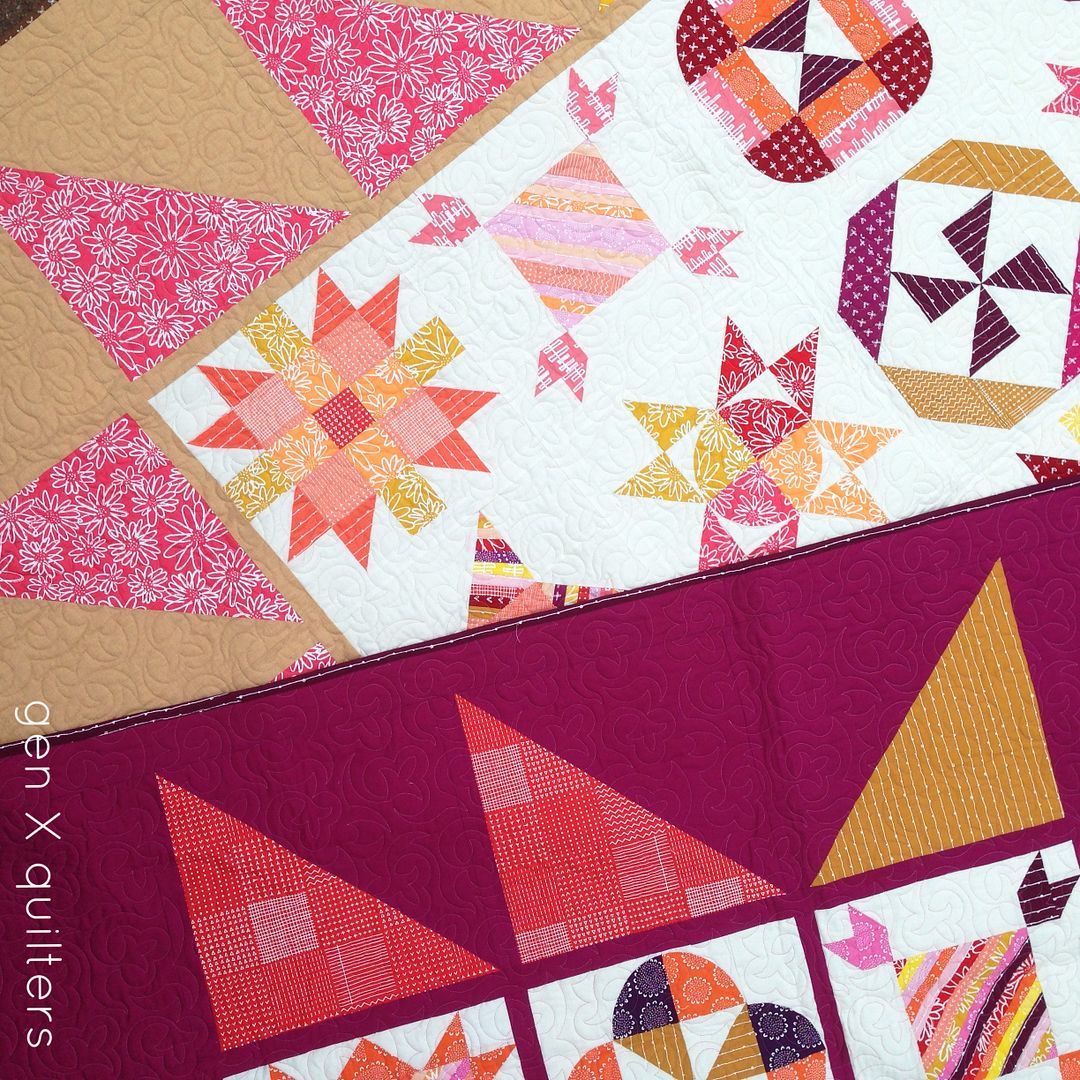 For those who participated in the quilt along, I have a winner to announce. Congratulations to
#3 Pam
, the winner of the FQ bundle of Paintbox Basics from
Fat Quarter Shop
! Thanks to all who participated and to
Fat Quarter Shop
for sponsoring the prizes all year long.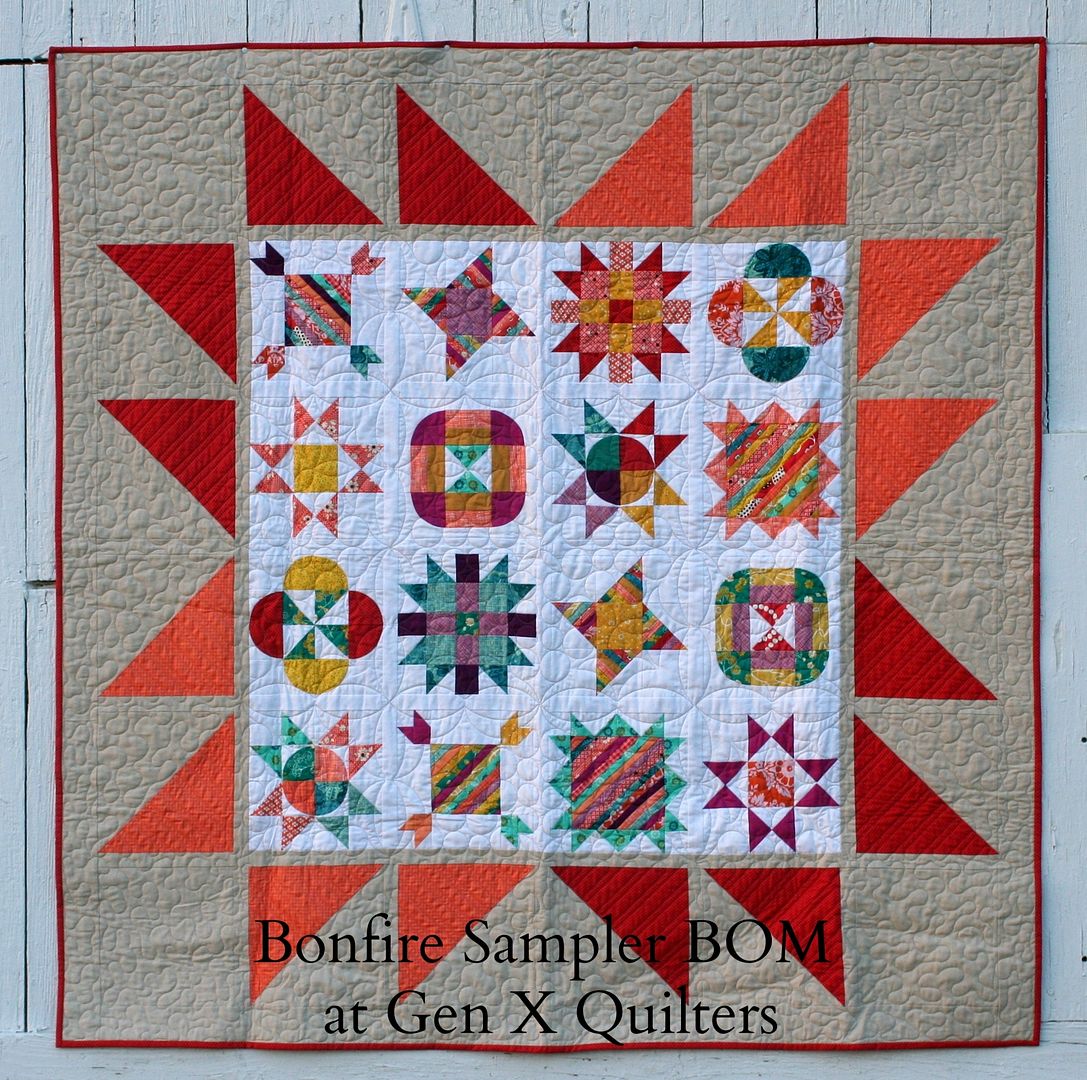 Bonfire Sampler from Sister Sampler Quilts








Quilt Stats.
Name: Bonfire Block of the Month
Size: 82" x 82"
Fabric:
Blueberry Park by Karen Lewis on Kona Snow. Kona Cerise, Quilter's Linen in Straw
Piecing: Me + Mom
Quilting: LAQ Beany of Quilty Pleasures - Cotton Puffs
Pin It