Pin It
I'm checking in with you for the
Bonfire Block of the Month Club

. We completed all the blocks with last month's post, so I wanted to let you know what's been going on over here to make these quilt blocks turn into two "Sister" quilts.
BLOCK SWAP PARTY. My mom and I got together to trade our blocks. This was the day in our sew-along we had been waiting for. Below you can see a pick of each of our blocks laid out next to each other. We put each pair next to each other, and then went one block at a time, trading and debating which block to keep and which to swap. It was really fun to work this out together. We both started splitting a FQ bundle of Blueberry Park by Karen Lewis. We cut it into fat eighths, so we could both have all the colors. It was fun to watch all the blocks come together, month by month, and have the colors we each selected be different.
AnneMarie's Sister Bonfire Blocks
Here are the blocks I ended up with. Again, there are two of each block in the sampler. Mom and I swapped one of the pair - so I have one made by me and one made by her. For example, if you look for the Friendship Stars, I made the one in the bottom row, and my mom made the block in the second row. It's really special to have this collaboration between us.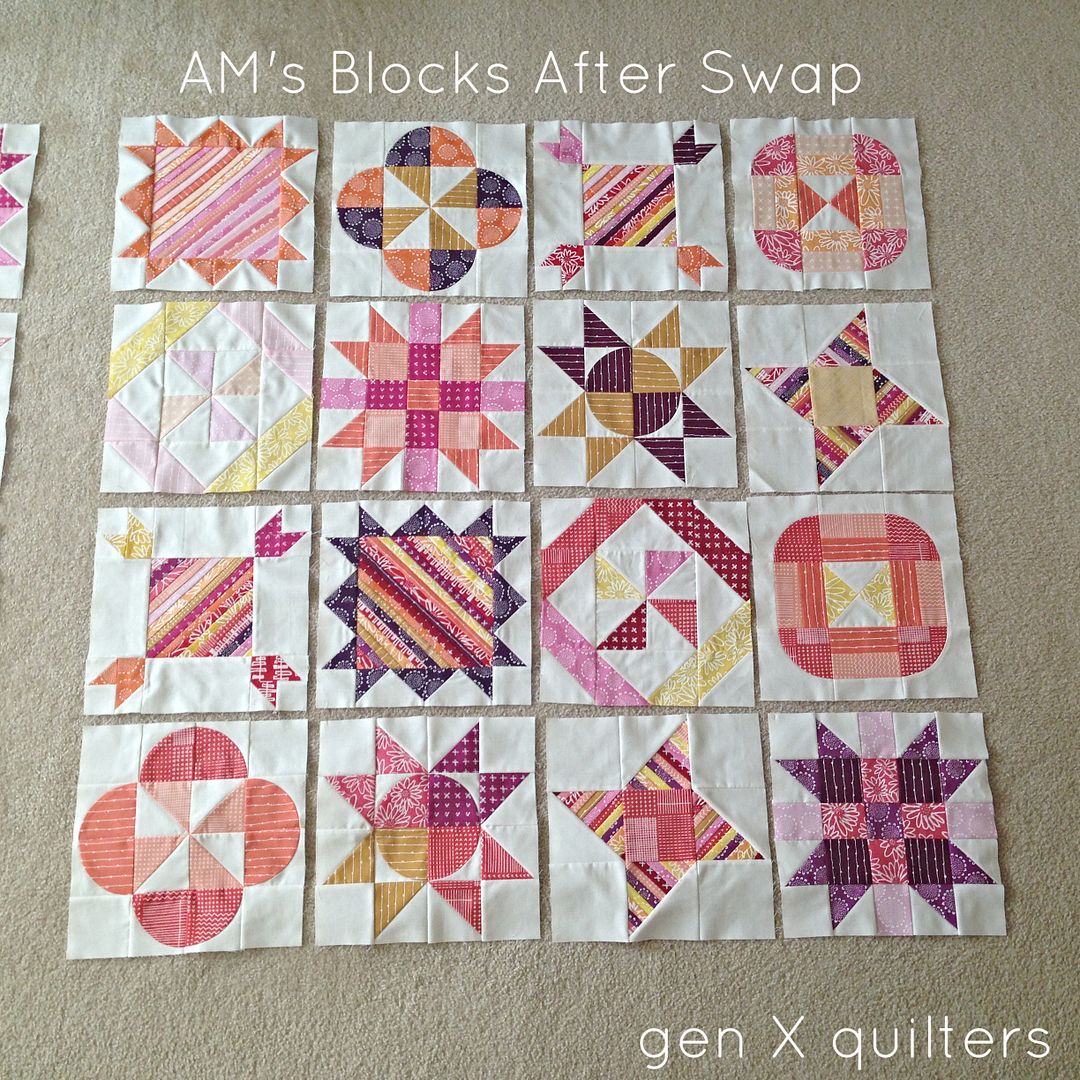 The quilt top assembly for the Bonfire quilt is a decent amount of work. It takes quite a bit of time to cut all the sashing pieces and make the additional large half-square triangles. I worked hard on getting this quilt together. We made 12" blocks and this quilt is huge. It will be a great one to add to our family heirloom stash.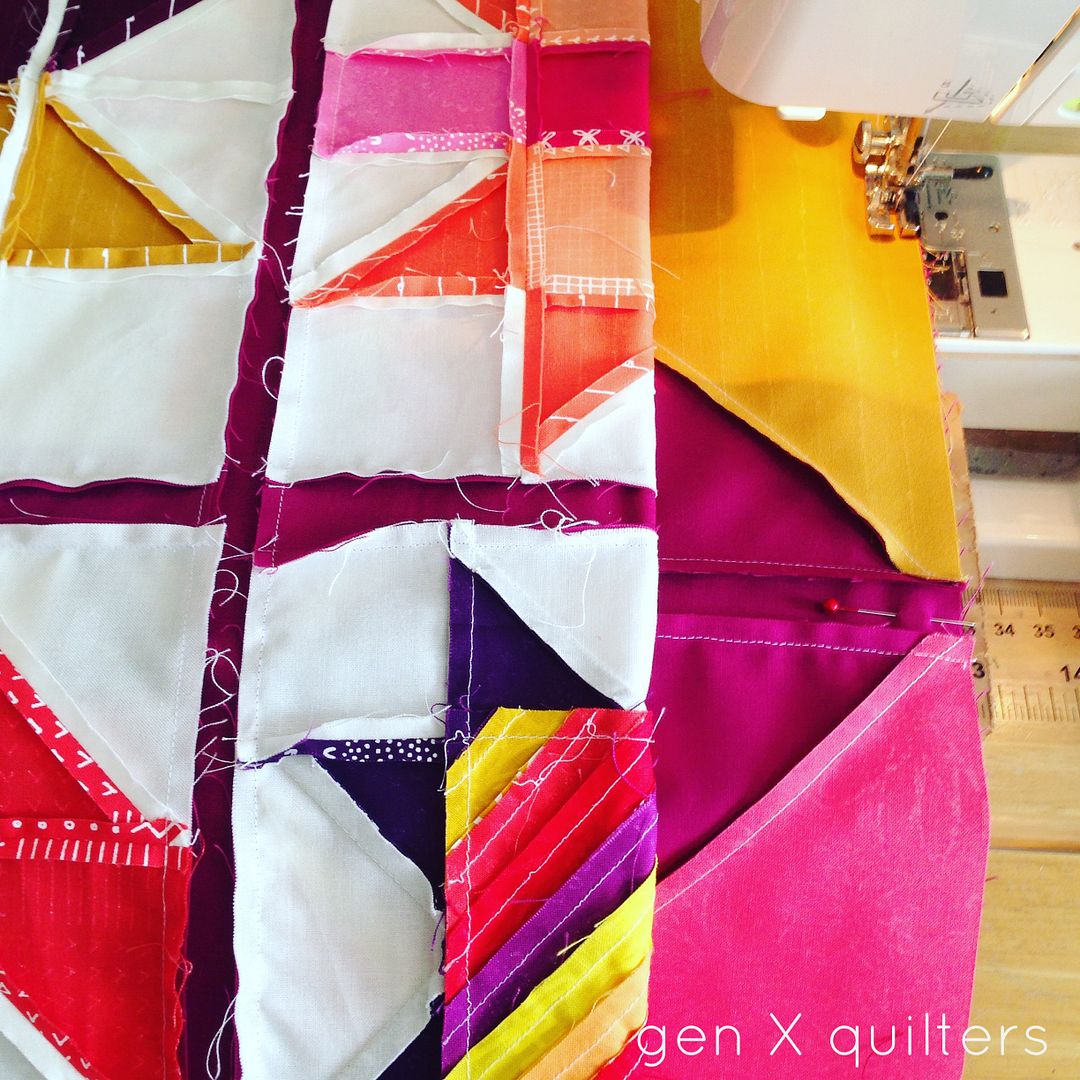 This pic is blurry, so I won't enlarge it here, but you get the idea. Here's an in-progress shot. I'm loving that Cerise Kona Solid I chose to frame up the quilt. I also changed things up a bit with using Cerise sashing in between the blocks. It gives a slightly different look and really frames the block work. On October 1st, I'll check in again with you to show both Bonfire Sister quilt tops. Hopefully, you can show is yours then too.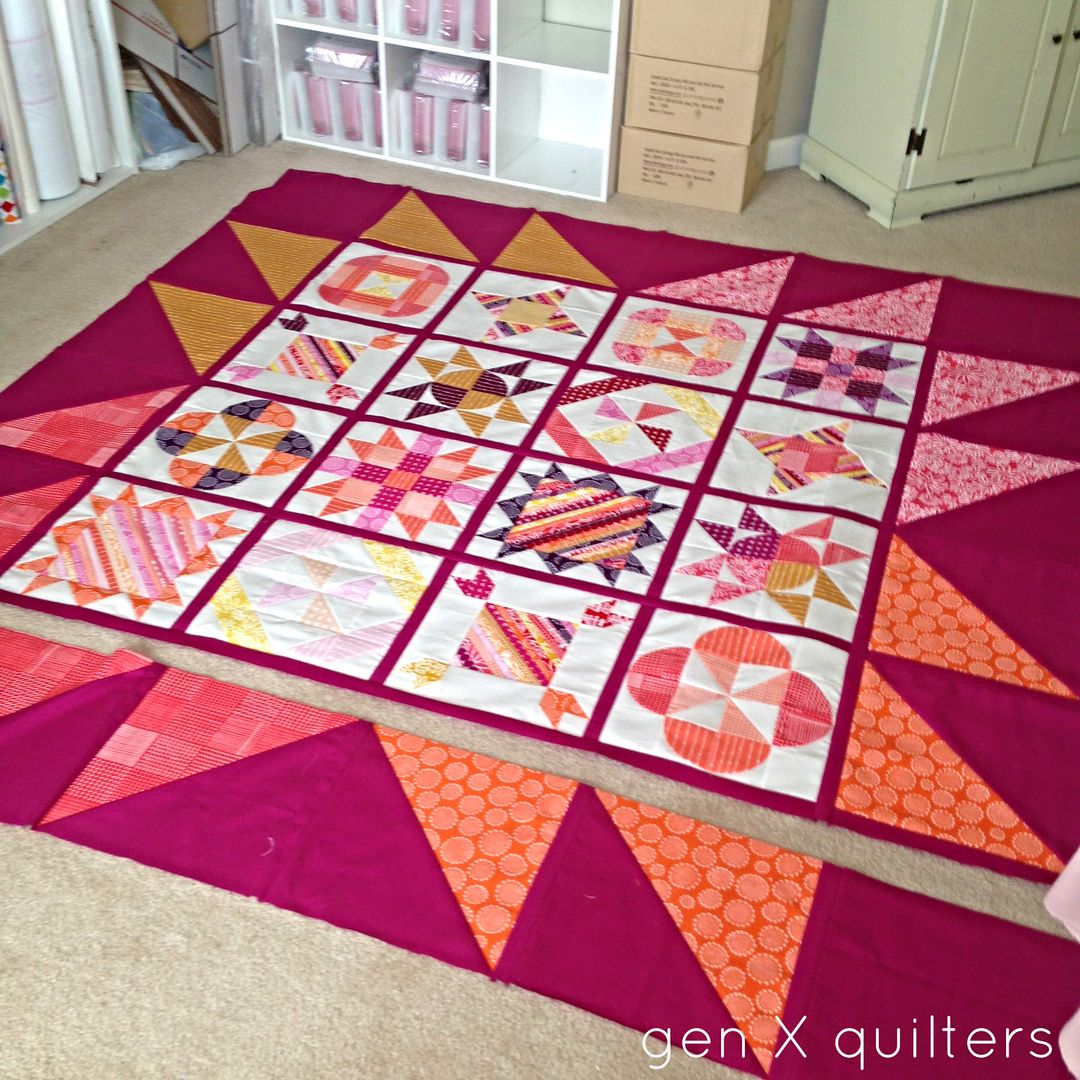 SHARE with us and WIN!
Thank you so much for sharing with us this year! It's always so enjoyable for me to see your creative versions of the BOMs.
#bonfiresampler on Instagram
Also in the

Gen X Quilters' Pattern Shop Facebook Group

.
AUGUST WINNER.
Each month, there has been a $25 gift certificate from
Fat Quarter Shop
up for grabs. This is the last of the monthly giveaways. The winner is drawn randomly.
The August winner is:
#17 Alison! Congrats!
COMPLETED QUILT TOP GIVEAWAY.
We'll have one more giveaway for entering completed quilt tops. You will be able to enter your quilt tops during the whole month of October, starting Oct. 1. The winner will be drawn on November 1, 2016.
Pin It