Pin It
The July
Bonfire Block of the Month Club

is a little different this month! I'm hoping you will take advantage of some "creative liberties" this month to pick your own favorites.
The Bonfire Sampler quilt requires 16 sampler blocks. Each block is made in pairs, so we make 2 of 8 different block patterns. The Bonfire chapter of the book only has 3 curve and 3 string blocks, so it is completely up to you which blocks you decide to use for the remaining 2 months. I will show you what we chose, but please pick your favorites. All the blocks in the book are interchangeable - so make it your own!
JULY BLOCK - YOUR CHOICE. We chose SISTER'S CHOICE My mom and I decided we would each pick a month with the remaining 2 blocks for the quilt. Lucky for me, my mom chose to include the block Sister's Choice in our quilt. This block is my favorite block OF ALL TIME. Hands down. (I even based Moccasin on this block if that proves my devotion!) It's so classy.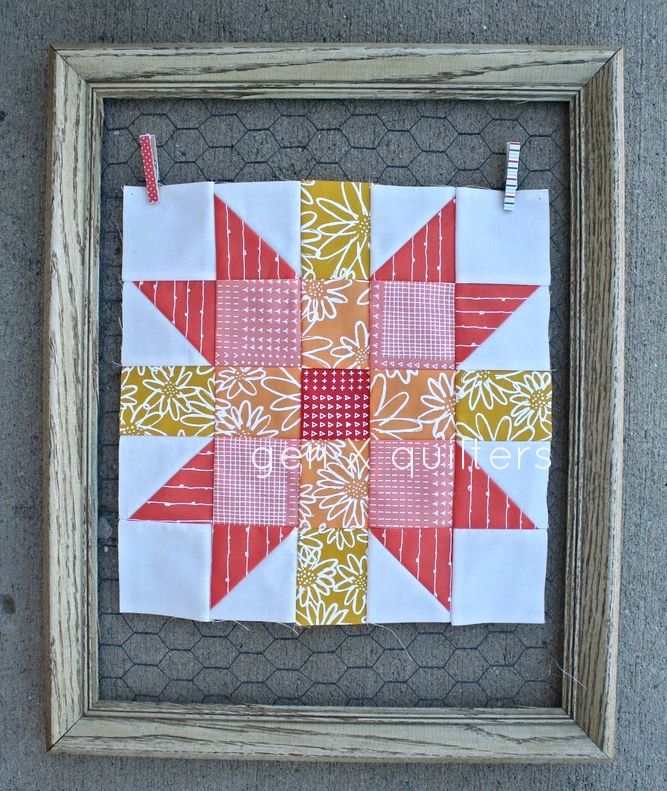 Remember we are making

Sister Blocks

for the Bonfire Sampler (from the book

Sister Sampler Quilts

). We will be swapping blocks at the end to make Sister Quilts. The Your CHOICE (we chose Sister's Choice) is the seventh block in the project. It's almost swap time!

*ALL of the blocks in the book are interchangeable, so if there is one you'd rather not do, you can always substitute ANY block within the book. Make 2 blocks each month.
AnneMarie's Sister Pair of the Sister's Choice Block
Looooove. I don't have anything more to say. I simply adore this block. It's sweet and simple. Just perfection in my opinion.
My Partner (My Mom)'s Sister Pair of the Friendship Star Block
Again, more adorable blocks. You just can't go wrong with this block. It looks stunning pretty much wherever you put the lights and darks.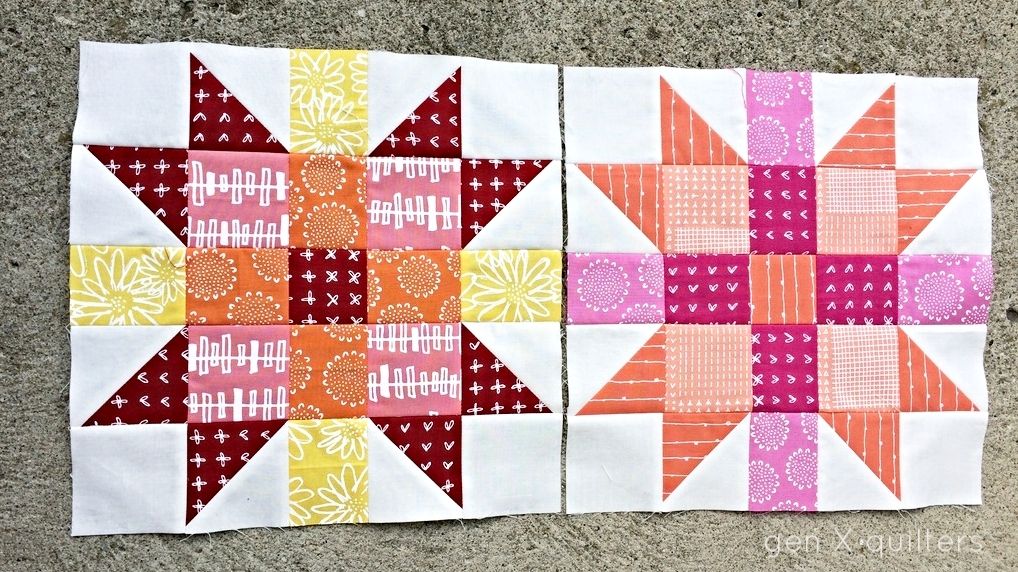 SHARE with us and WIN!
Thank you so much for sharing with us so far this year! Share your blocks with us for a chance to win a $25 Gift certificate to

Fat Quarter Shop

. Go

here

for the details on the giveaway each month and details on how to enter.
**Remember you can also show us your progress on Instagram and/or in the Facebook group for my patterns.
#bonfiresampler on Instagram
Join the

Gen X Quilters' Pattern Shop Facebook Group

.
Feel free to join in the fun with us anytime throughout the year. It's never too late! For all the details on Bonfire, go
here
.
JUNE WINNER.
Each month, there is a $25 gift certificate from
Fat Quarter Shop
up for grabs. All you have to do is
enter a photo
of your BOM blocks in the linky at the end of the month's post. The winner is drawn randomly. The May Tulip LadyFingers were so colorful!
The June winner is:
#24 Peggy - June#1! Congrats!
ENTER THE GIVEAWAY HERE.
2 entries per person; MUST be blocks made from
Sister Sampler Quilts book
(but does not have to be July's block). Enter your blocks any time from now until 8/01/2016. Enter by midnight EST on 7/31.
Pin It