Pin It
Welcome to April's
Bonfire Block of the Month Club

! Congratulations... If you are keeping up with the 2 blocks per month, you have now FINISHED the curves!!! I know many of you are excited about that. :)
APRIL BLOCK - BOX & STAR FRAME. Now it's time to change lanes. Our next few blocks will focus on learning a different technique. Strings. I am so happy to be making string blocks this month. They are super fun. They add a different dimension to blocks if you include it as a component of traditional quilt blocks. I love adding this technique to blocks we already know. I hope this helps you think outside the box a little bit.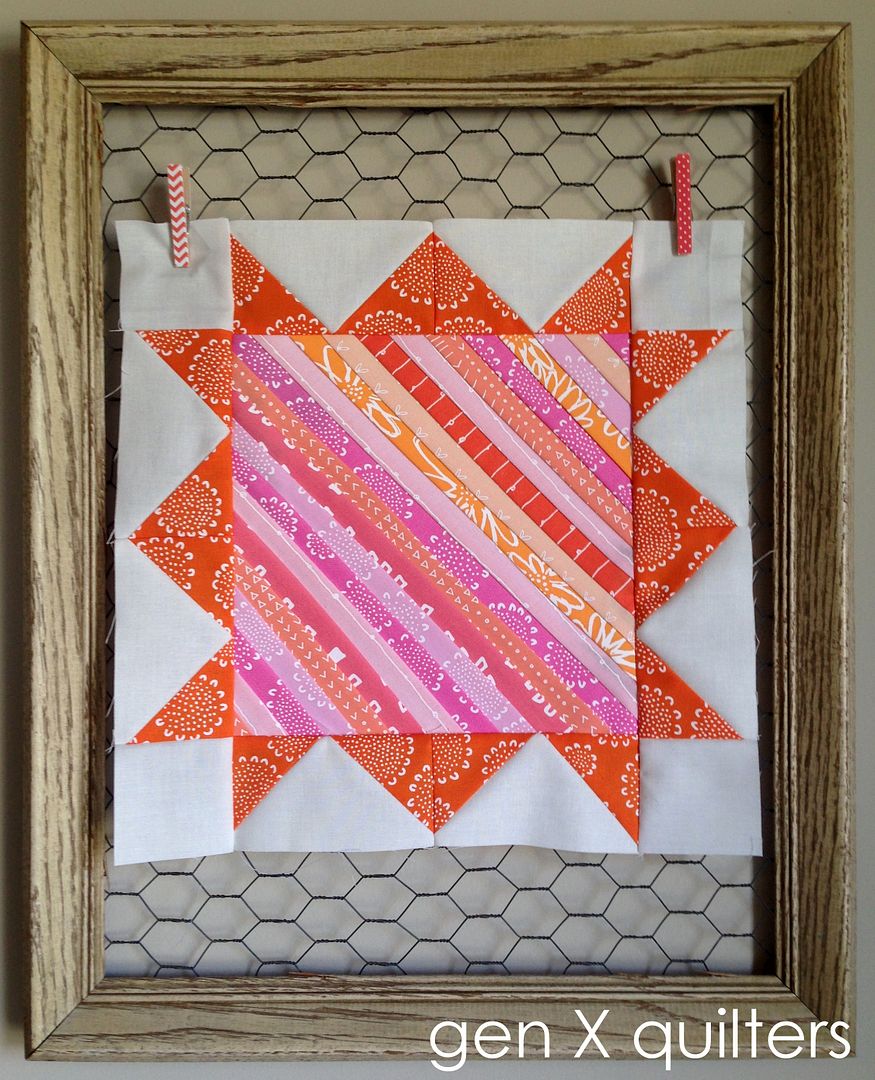 Remember we are making

Sister Blocks

for the Bonfire Sampler (from the book

Sister Sampler Quilts

). I am partnered up for the BOM with my mom. We will be swapping blocks at the end to make Sister Quilts. The Box & Star Frame Block is the fourth block in the project.



*ALL of the blocks in the book are interchangeable, so if there is one you'd rather not do, you can always substitute ANY block within the book. M

ake 2 blocks each month.
Need some extra help? See it before you sew it.
There is a tutorial on page 118-119 of the

book

AND if you'd like to see it in motion, I have a video tutorial for you here.
AnneMarie's Sister Pair of the Box & Star Frame Block
In the block on the left, I decided to use 2 different colors in the framing of the strings. I like to think of that block as "pink lemonade". I chose to make each block with a select few colors of strings. The right hand block with the pinks and corals is so lovely!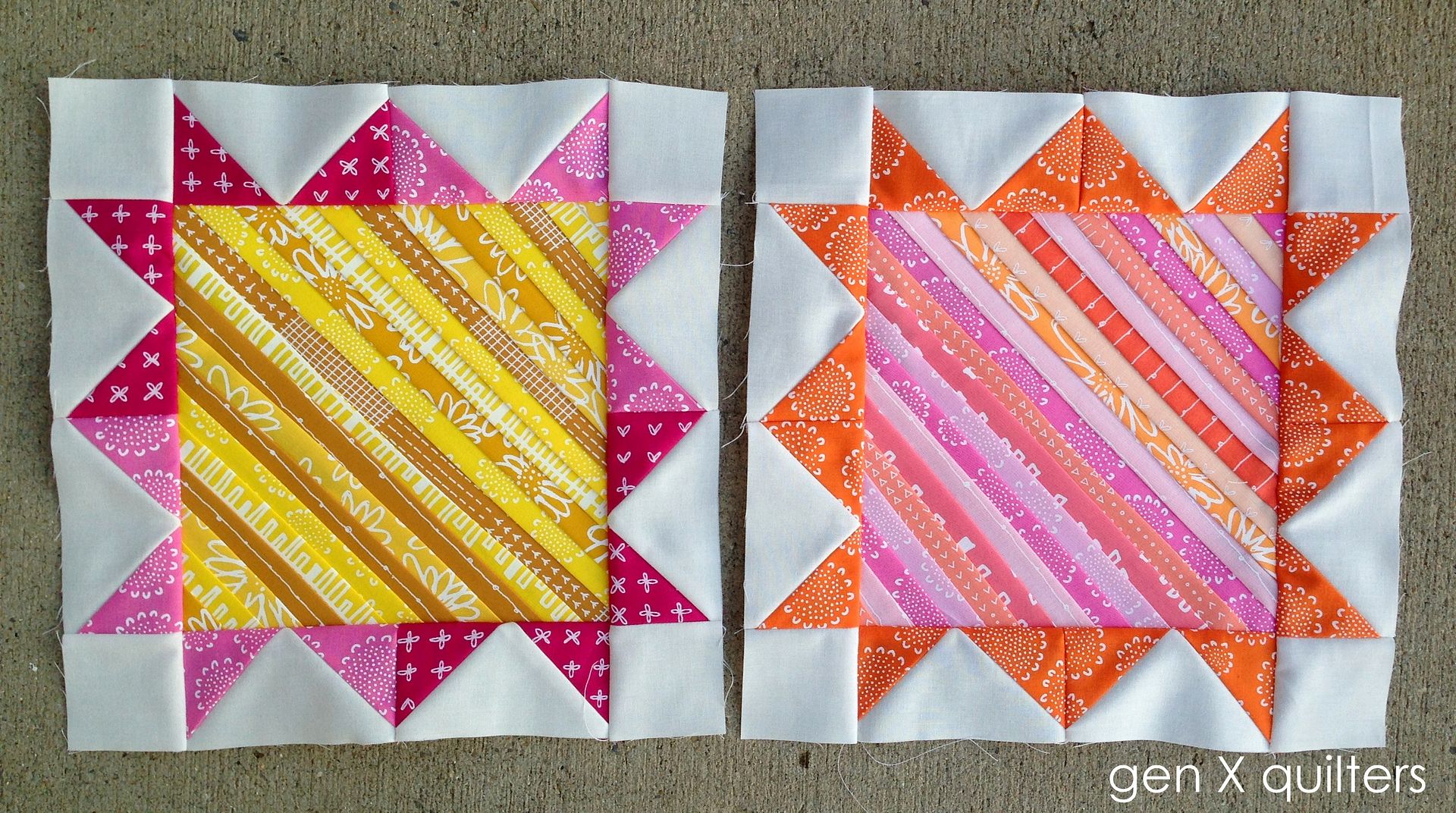 Fabric is
Blueberry Park
by Karen Lewis for Robert Kaufman
for this version of the Bonfire BOM.

My Partner (My Mom)'s Sister Pair of the Box & Star Frame Block
Mom decided to use all the colors in our chosen bundle's palette. The results show a fantastic rainbow of color.
Fabric is
Blueberry Park
by Karen Lewis for Robert Kaufman
for this version of the Bonfire BOM.
SWAPPING BLOCKS: Again, we are making all of the blocks for the Bonfire quilt before swapping any. We are planning to make 2 of all 8 blocks, then get together for a Block Swap Party. At the party, we can both layout all of our blocks in the quilt top layout, then play with the arrangements and swap as we like. How you swap is up to you!
Another swapping option would be to swap each month with your partner to have a fun surprise every month.

SHARE with us and WIN!
Thank you so much for sharing with us so far this year! Let's do it again this month. Share your blocks with us for a chance to win a $25 Gift certificate to

Fat Quarter Shop

. Go

here

for the details on the giveaway each month and details on how to enter.
**Remember you can also show us your progress on Instagram and/or in the Facebook group for my patterns.
#bonfiresampler on Instagram
Join the

Gen X Quilters' Pattern Shop Facebook Group

.
Feel free to join in the fun with us anytime throughout the year. It's never too late! For all the details on Bonfire, go
here
.
MARCH WINNER.
Each month, there is a $25 gift certificate from
Fat Quarter Shop
up for grabs. All you have to do is
enter a photo
of your BOM blocks in the linky at the end of the month's post. The winner is drawn randomly. The March
Time & Energy blocks
were a real challenge - hopefully, you practiced and learned a little about curves. They look great!
The March winner is:
#23 Amy!
Congrats!
ENTER THE GIVEAWAY HERE.
2 entries per person; MUST be blocks made from
Sister Sampler Quilts book
(but does not have to be March's block). Enter your blocks any time from now until 5/01/2016. Enter by midnight EST on 4/30.
Pin It