Pin It
It's
month #3 of the
Bonfire Block of the Month Club

! What fun it is to see all the "sisters" entered into the drawing each month.
FEBRUARY WINNER. Each month, there is a $25 gift certificate from

Fat Quarter Shop

up for grabs. All you have to do is

enter a photo

of your BOM blocks in the linky at the end of the month's post. The winner is drawn randomly. The entries for the February Button blocks are seriously sweet! The February winner is:

Tiffany (entry #35).

Congrats!
MARCH BLOCK - TIME & ENERGY. This month's block is aptly named. I'm glad you have some practice with the curve blocks now because this month's block is a toughie. It will require your time, energy and patience. If I'm honest, the first time I made these blocks (the samples for the book), I was growling. The second time I made these for this post and our current BOM, they went much smoother. I really think curves are an exercise in practice and patience. Practice makes perfect.
Remember we are making

Sister Blocks

for the Bonfire Sampler (from the book

Sister Sampler Quilts

). I am partnered up for the BOM with my mom. We will be swapping blocks at the end to make Sister Quilts. The Time & Energy Block is the third block in the project - here's my fav....

Hooray! This block is the LAST of three with lessons on curves. That's a big accomplishment. Make sure you are referencing the square up dimensions (p. 91 step 2) after you sew the curved units.
*Remember if you hate curves or have had your fill by now, you can always substitute ANY block within the book. M

ake 2 blocks each month.
Need some extra help? See it before you sew it.
There is a tutorial on page 116-117 of the

book

AND if you'd like to see it in motion, I have a

video tutorial

for you here.
AnneMarie's Sister Pair of the Button Block
My samples pictured below (and the sample blocks in the book) use only one color for each half-circle petal.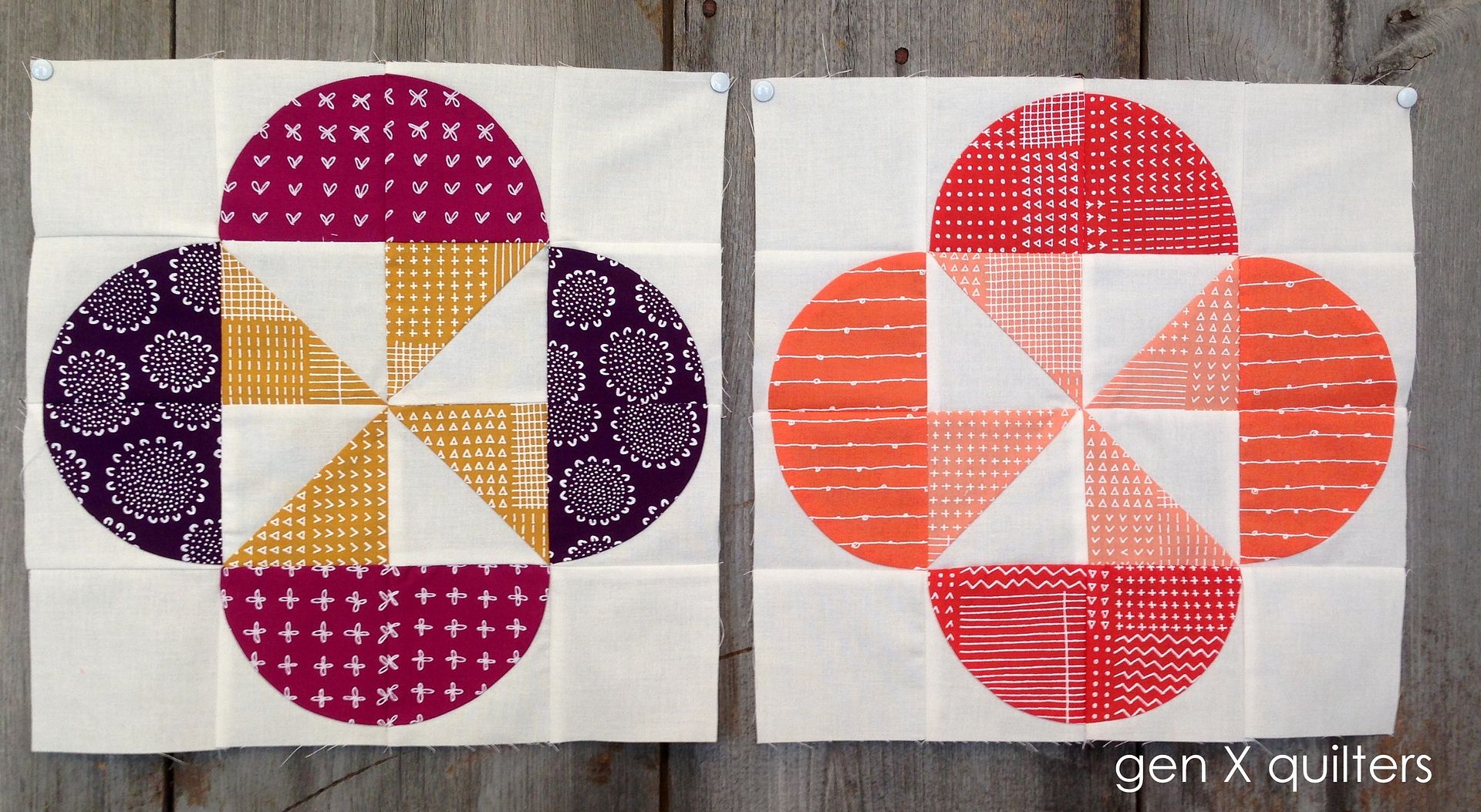 Fabric is
Blueberry Park
by Karen Lewis for Robert Kaufman
for this version of the Bonfire BOM.
My Partner (My Mom)'s Sister Pair of the Button Block
Mom decided to change up the colors in the petals and used 2 colors in her half circles. I love this look, especially on the left-hand block with the orange and purple. (Secretly hoping to swap that block when we trade later ;) Make these blocks your own style!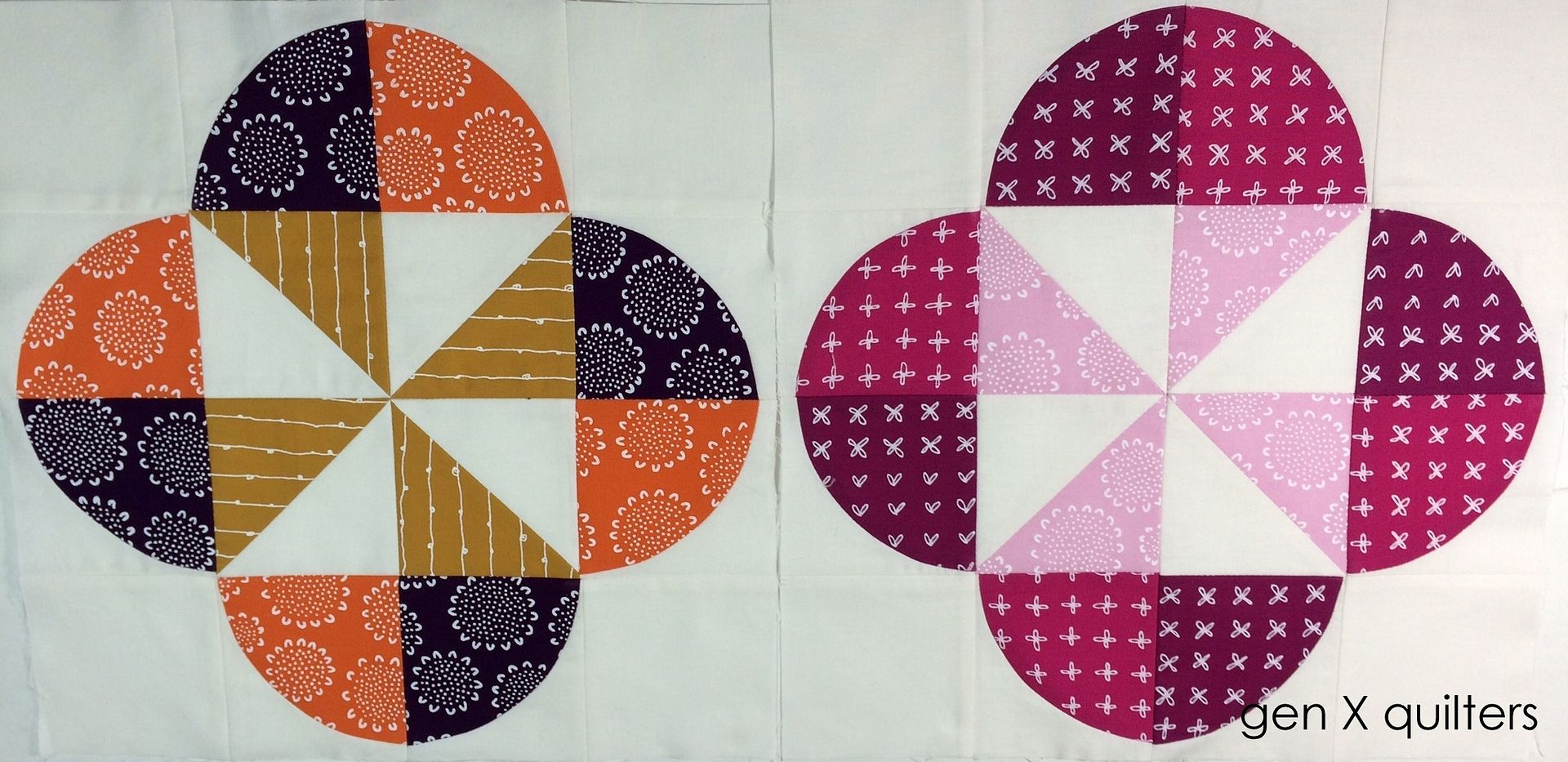 Fabric is
Blueberry Park
by Karen Lewis for Robert Kaufman
for this version of the Bonfire BOM.
SWAPPING BLOCKS: Again, we are making all of the blocks for the Bonfire quilt before swapping any. We are planning to make 2 of all 8 blocks, then get together for a Block Swap Party. At the party, we can both layout all of our blocks in the quilt top layout, then play with the arrangements and swap as we like. How you swap is up to you!
Another swapping option would be to swap each month with your partner to have a fun surprise every month.

SHARE with us and WIN!
Thank you so much for sharing with us in January and February! Let's do it again this month. Share your blocks with us for a chance to win a $25 Gift certificate to

Fat Quarter Shop

. Go

here

for the details on the giveaway each month and details on how to enter.
**Remember you can also show us your progress on Instagram and/or in the Facebook group for my patterns.
#bonfiresampler on Instagram
Join the

Gen X Quilters' Pattern Shop Facebook Group

.
Feel free to join in the fun with us anytime throughout the year. It's never too late! For all the details on Bonfire, go
here
.
ENTER THE GIVEAWAY HERE.
2 entries per person; MUST be blocks made from
Sister Sampler Quilts book
(but does not have to be March's block). Enter your blocks any time from now until 4/01/2016.
Pin It