Pin It

The
Patchwork Auditions blocks are so much fun to play with. Today I show you the fifth block in the

series

. The series
looks at some classic blocks and exposes alternate colorings. My goal is to simply think about other ways to color a quilt block I have looked at hundreds of times. So far I've been making 3 of each block - 1 traditional coloring and 2 alternates. It's amazing how different they look! Eventually, I'll put them together into a scrappy quilt. Find all the details here.
Join me on this laid back adventure if you like! Below you'll find a cutting list for the basic blocks in 12" and 16" finished blocks, but not a tutorial. Use the
coloring sheet
to generate your own ideas. I hope that you'll audition other color arrangements and play as I am.
---------------------------------------------------------------------------------------------------------
Mosaic No. 12 (Traditional)
The Mosaic No. 12 block uses one of the great quilting fundamentals - the Flying Geese unit. Changing the orientation of the geese allows for a neat pinwheel pattern to form in the center of the block. This block goes by many names. The earliest reference I found was by the Ladies' Art Company in 1897. I know this block by the name Dutchman's Puzzle. Pictured below is the most common way to make it.
Mosaic No. 12 Coloring Sheet
Download the PDF
here.

Block Structure
This block is constructed with (8) Flying Geese units. Nice 'n simple! It's the direction that the geese are facing that make this block interesting.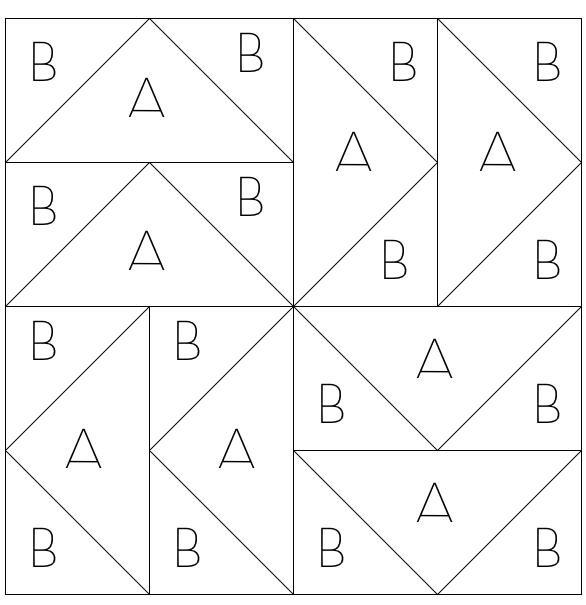 Cutting List.
I have listed cuts for both 12" and 16" blocks.
Cut (8) 3 1/2" x 6 1/2" squares. (A)

Cut (16) 3 1/2" x 3 1/2" squares. (B)
For 16" blocks.
Cut (8) 4 1/2" x 8 1/2" squares. (A)

Cut (16) 4 1/2" x 4 1/2" squares. (B)
Alternate Coloring Options
There are a few ways to recolor this block that are outside the traditional coloring.
In this exercise, I simply am recoloring the block without changing it's basic construction. These are just a few of the options I found. These options can yield very different looks. Which would you choose?
My Sample Blocks
traditional Mosaic No. 12 (12" block)
letter E in the table above (16" block)
letter F in the table above (16" block)
Feel free to share any past or present Mosaic No. 12 blocks you've made with us to show how you colored it using #patchworkauditions #dutchmanspuzzle. Enjoy!
Pin It