Pin It

I'm having so much fun making these beginner blocks for
Patchwork Auditions. Here is the next block in the series. In case you missed my first Patchwork Auditions post, this series
will look at some classic blocks and expose some alternate colorings. My goal is to simply think about other ways to color a quilt block I have looked at hundreds of times. Then I'll make one. Or two. Eventually, I'll put them together into a scrappy quilt. Find all the details here.
Join me on this laid back adventure if you like! Below you'll find a cutting list for the basic blocks in 12" and 16" finished blocks, but not a tutorial. Use the
coloring sheet
to generate your own ideas. I hope that you'll audition other color arrangements and play as I am.
---------------------------------------------------------------------------------------------------------
Shoofly (Traditional)
The Shoofly block is another popular quilt block - it crops up again and again. I've actually used this block in two of my BOMs. It's a simple twist on a nine-patch block and looks great no matter how you color it. Pictured below is the most common way to make it.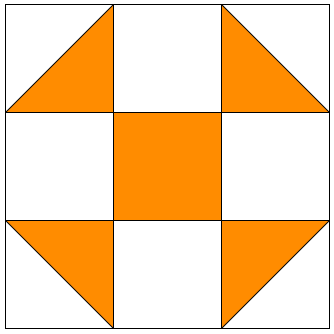 Shoofly Coloring Sheet
Download the PDF
here
.
Block Structure
This block is constructed with (4) half-square triangles (HSTs). The HSTs are in each corner of the block. The B and C blocks form a center cross.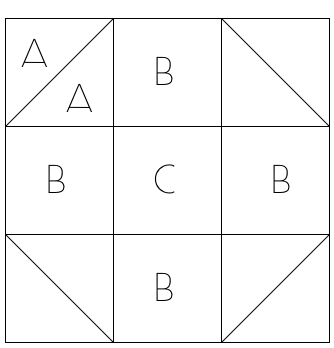 Cutting List.
I have listed cuts for HST methods for both 12" and 16" blocks. For the 16" blocks, the B units become rectangles to make the math work out cleanly. 16" does not divide nicely into three rows. You can see how the rectangles look in my 2nd sample block below.
Cut (5) 4 1/2" x 4 1/2" squares. (B & C)

Cut (2) 5 1/4" x 5 1/4" squares for HSTs of Fabric #1. (A)

Cut (2) 5 1/4" x 5 1/4" squares for HSTs of Fabric #2. (A)
Make (4) HSTs. Square them up to 4 1/2" x 4 1/2" unfinished. See
HST tutorial here
.
For 16" blocks.
Cut (4) 4 1/2" x 6 1/2" rectangles. (B)
Cut (1) 4 1/2" x 4 1/2" square for center. (C)
Cut (2) 7 1/4" x 7 1/4" squares for HSTs of Fabric #1. (A)
Cut (2) 7 1/4" x 7 1/4" squares for HSTs of Fabric #2. (A)
Alternate Coloring Options
There are many ways to recolor this block. Granted, with only nine patches in this block, we don't have as many options as we did for Block #1. In this exercise, I simply am recoloring the block without changing it's basic construction. These are just a few of the options I found. This is a good place to begin with the coloring sheet.
My Sample Blocks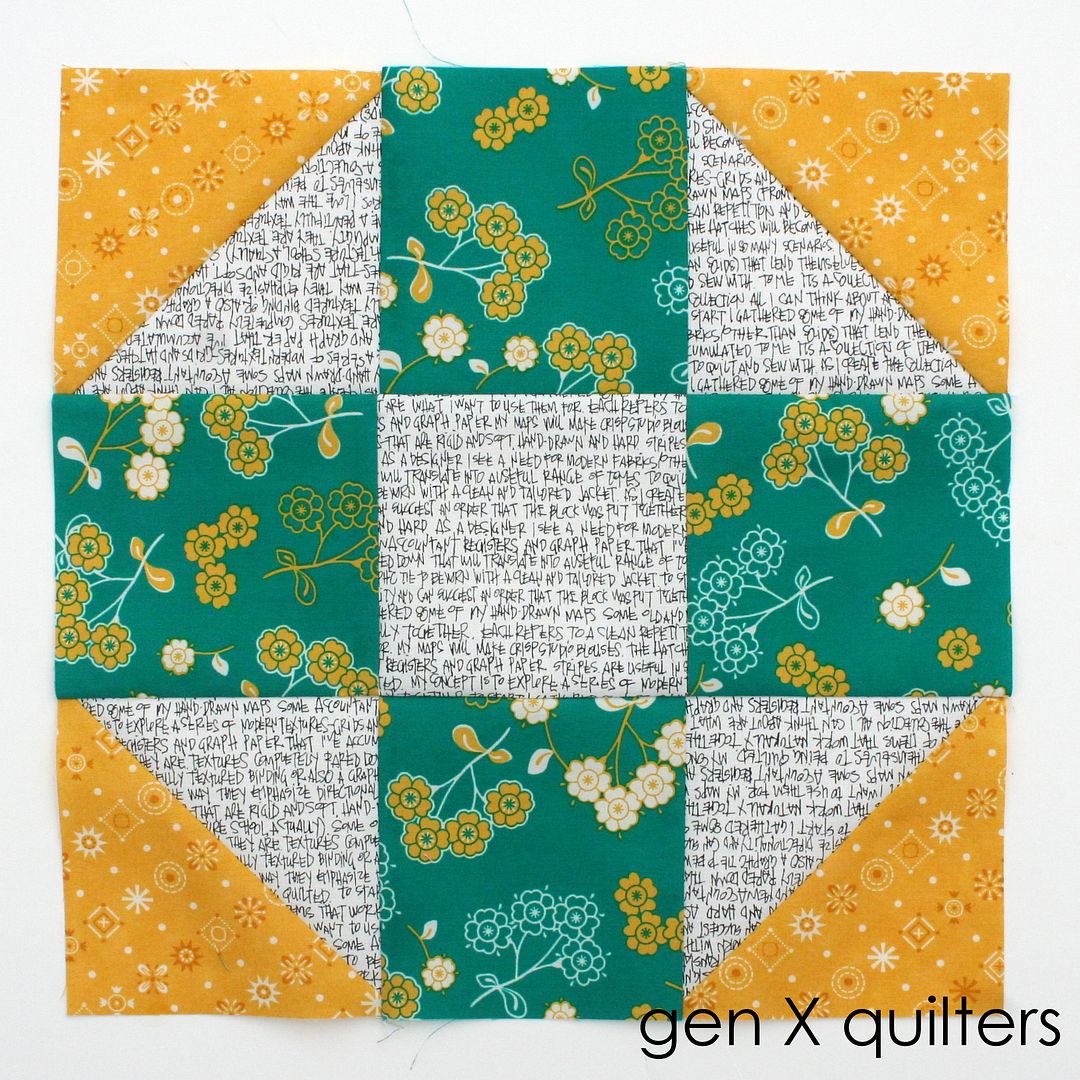 letter G in the table above (12" block)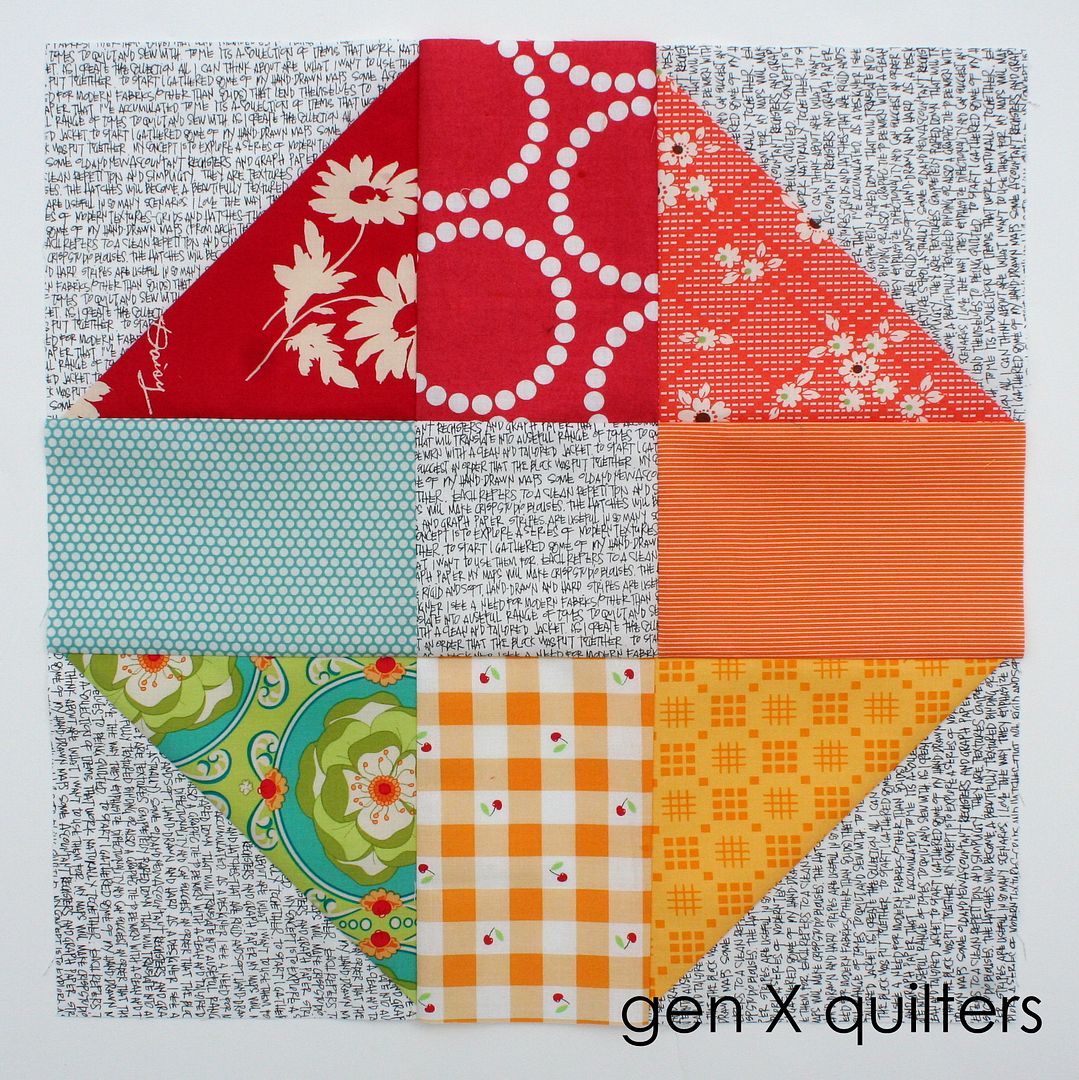 letter E in the table above (16" block)
There are many fun things to do with this basic block! Share any past or present Shoofly blocks you've made with us to show how you colored it using #patchworkauditions #shoofly. Enjoy!
Pin It