Pin It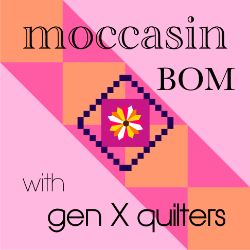 This block is an original design called Bosonic String. It is based on the form of the classic Old Maid's Puzzle block, but I've simplified it a bit and made the focus of the block a set of strings in the main large triangles. Strings make such a unique addition to a block. Have you tried strings before? I think you'll be surprised that they are not nearly as hard as they seem. String blocks are made on a foundation paper that makes them easy to piece.
Block #5 (Bosonic String - shown in Yellow and Orange Colorways)
Here's another version of Bosonic String. This block was submitted to Quiltmaker's 100 Blocks and came back a reject. :) I still love it. This sample shows you how the block has a different look when you vary the width of the strings. (As compared to the Moccasin block which uses only 1" strings.)
SHARE with US!
There are several ways to share your participation in the BOM. I hope you'll join in the fun of quilting along online with us.
Moccasin flickr group
#moccasinbom on Instagram
Gen X Quilters' Pattern Shop Facebook Group
**A yearly subscription to Moccasin BOM is available here**
When you purchase a subscription, an Introduction - Guide to Choosing Fabric AND all the current block patterns to date will be emailed immediately upon payment.
Available in both PDF and Print.
Looking for Moccasin as a monthly BOM kit? Pink Castle Fabrics is hosting. Check it out here.
Feel free to join in the fun with us anytime throughout the year. For all the details on Moccasin, go
here
.
Pin It