Pin It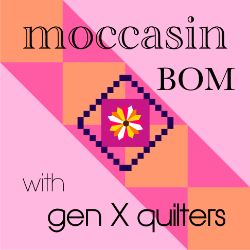 Is it seriously March? Because you wouldn't know it from the negative temps and wind chills we are still having here in Ohio. Grrr. If it could just hit 32, it'd feel downright balmy! March brings us the next block pattern in the
Moccasin Block of the Month Club.
Do you want the good news or the bad news first? :) The good news is that this month we are back to basics. This month's blocks are comprised only of squares and half-square triangles (HSTs). The bad news, you ask? It's a bit of homework this month. There are 3 blocks to make. But don't worry, they are so much easier than the curves!
Block #3 (Shoofly - shown in Yellow and Orange Colorways) and Block #4 (Crow's Foot)
SHARE with US!
There are several ways to share your participation in the BOM. I hope you'll join in the fun of quilting along online with us.
Moccasin flickr group
#moccasinbom on Instagram
Gen X Quilters' Pattern Shop Facebook Group
**A yearly subscription to Moccasin BOM is available here**
When you purchase a subscription, an Introduction - Guide to Choosing Fabric AND all the current block patterns to date will be emailed immediately upon payment.
Available in both PDF and Print.
Looking for Moccasin as a monthly BOM kit? Pink Castle Fabrics is hosting. Check it out here.
Feel free to join in the fun with us anytime throughout the year. For all the details on Moccasin, go
here
.
Pin It