Pin It
Today I sent out the last installment of the
Vice Versa Block of the Month Club
. The October pattern gives the instructions on assembling the quilt top. Hooray! And Boo-Hoo. I am happy and sad at the same time. I've had so much fun over the course of 2014 working on this quilt with you.
FYI - October is the last pattern mailing for those who have
subscribed
to the BOM program. However, sometime in November, I will be showing details on my Vice Versa finish and giving you some ideas for quilting your own quilt here on the blog. So... updates....
Vice Versa QUILT LABELS
-
Labels
will be shipped soon. I received them yesterday. Thank you to those who
pre-ordered
and for your patience. Labels are $4 each. Available
here
.
November 2014
- Quilting ideas for Vice Versa on the blog
December 2014
- Your quilt tops and finishes! I'll be lining up a giveaway for those that show us their completed quilt top. Stay tuned!
OCTOBER PATTERN: We've got work to do still! When you look at the pattern, you'll notice the cuts I've given for the negative space (lavender color for my sample) are oversized. I know not everyone's blocks turn out exactly the size they are supposed to be, so hopefully, this will help with that issue, and be more forgiving. The quilt top is assembled in diagonal rows - then the rows are pieced together to form the top.
Below, I am showing a pic of squaring up the corners where the large lavender triangles are. As you can see, the triangles are cut larger than they need to be for squaring up purposes. I have a large 20" x 20" ruler that helps get the corners square.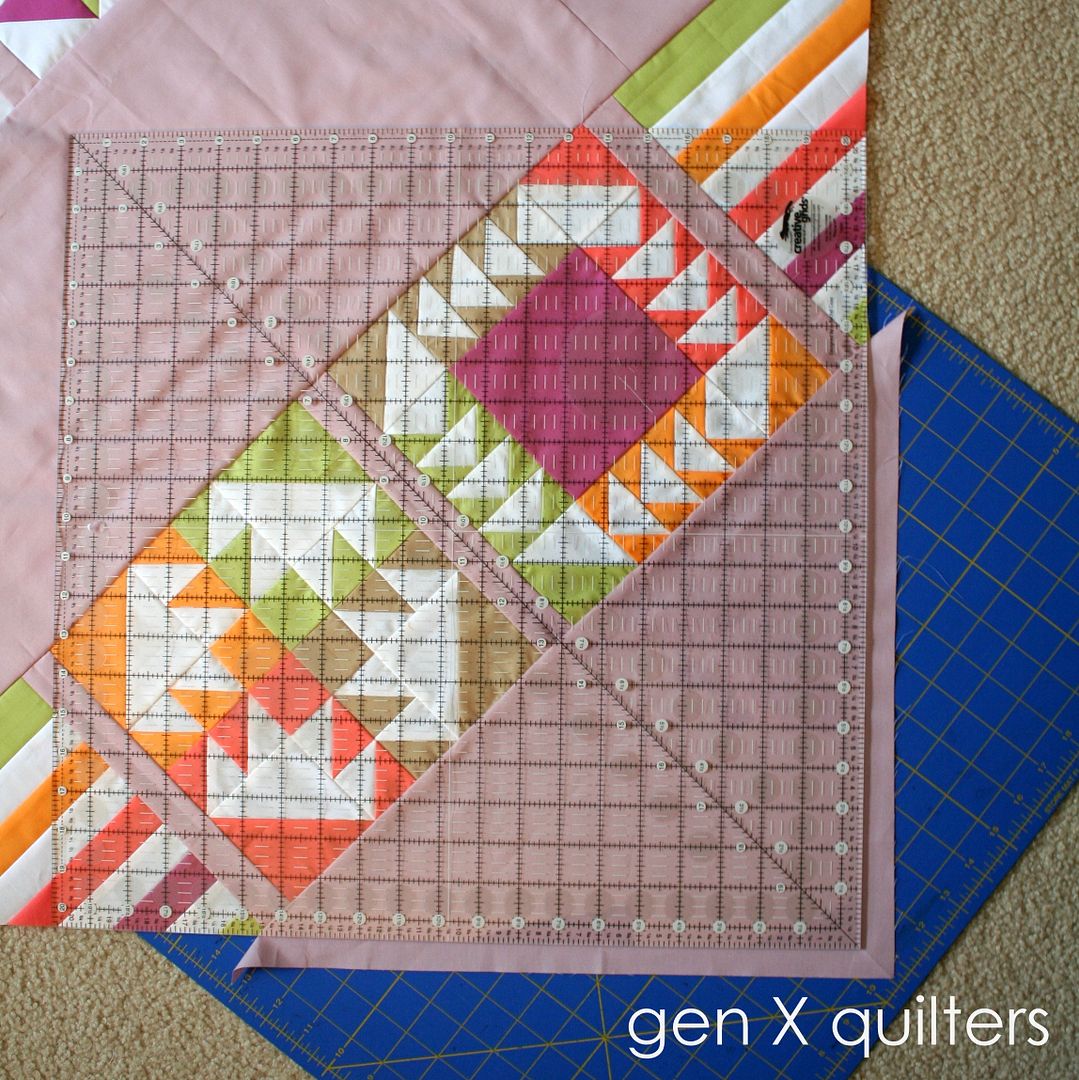 Below shows my quilt top ready to square off the excess lavender fabric on the major negative sashing strip. Make sure you center your sashing strips with the center of the quilt. Unfortunately, all this is hands-and-knees work. But it will be worth it!
Somehow I forgot to take a pic of my finished quilt top before quilting! Next month, I'll show you the completed quilt for those quilting ideas.
--Pricing will go up at the conclusion of the BOM, so get your copy now if you've been on the fence lately!--
**A yearly subscription to Vice Versa is available here**
**Or, you can purchase each block individually here **
For all the details on Vice Versa, go
here
Pin It