Pin It
Please welcome a special guest, Heather Raynack, for today's post. Heather contacted me a few weeks ago wanting to get
Quilts of Valor
's message out to modern quilters.
Quilts of Valor
is a wonderful charity quilting organization that provides quilts to military service men, women, and veterans touched by war. Modern quilters can get involved! Whether you or your guild can donate only a quilt block, a quilt top, a completed quilt, or long arm quilting services, there are many options to give....
My name is Heather Raynack and I'm the Ohio state coordinator for Quilts of Valor. I'm excited that AnneMarie has given me the chance to talk about Quilts of Valor with you. Our mission is to cover service members and veterans touched by war with comforting and healing Quilts of Valor. The organization was started in 2003 by the mother of a deployed soldier. Since then over 100,000 Quilts of Valor have been awarded. That is a great start but there are currently millions of veterans living in the United States. We'd love to get quilts to all of them. The quilts are a reminder to veterans that there are people who care about them and who are grateful for their service and sacrifices.
How can you get involved? Making quilts - We are always looking for volunteers to help make quilts.
Quilt Sizes: The quilts need to be between 55 inches and 72 inches wide and between 65 inches and 90 inches long. 60 inches by 80 inches is a great average size. You can use any pattern and fabrics that you like. Remember that these are made for adults so limit the juvenile fabrics. Because they are awarded as a sincere thank you, we ask that these quilts be made to the best ability of our volunteers. For a complete list of requirements, look on our website.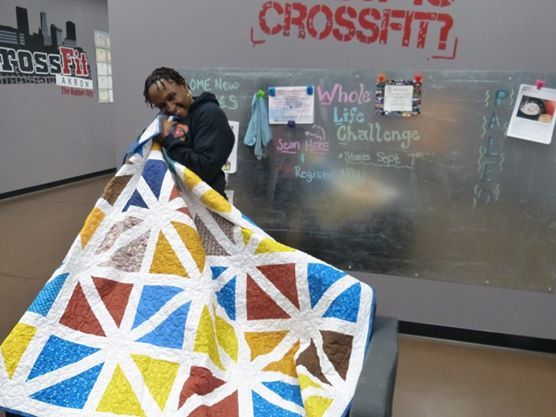 My friend Mary with a quilt made by Me (Heather)
Quilt Tops and Complete Quilts Accepted:
Once your quilt top is made you can either quilt it yourself or
request a long arm quilter to quilt it for you
. If you have one of our volunteer quilters quilt for you, then you mail the top and backing to them and they supply the batting and thread. This is a great option for those of us who like making tops best. The quilt will be mailed back to you for binding.
Volunteer Long-Arm Quilting Services: If you are a long arm quilter we would love to have your help. Our quilters can volunteer to do a certain number of quilts per month or volunteer to do a few quilts whenever they have some spare time. Find out more.
Once your quilt is finished you can decide where you want it to be awarded. You can contact your state coordinator to find out where quilts are needed in your state or fill out this form to have it go to whatever location needs it most.
a World War II veteran and his quilt
Want to help but can't make a whole quilt? You can donate quilt blocks too. Any 12 inch blocks, especially in red, white, and blue, are appreciated. Email me at heather.raynack@qovf.org to find out where to send them.
You can also nominate veterans that you know to receive a quilt. Volunteering with Quilts of Valor is a great way to show your support for our veterans.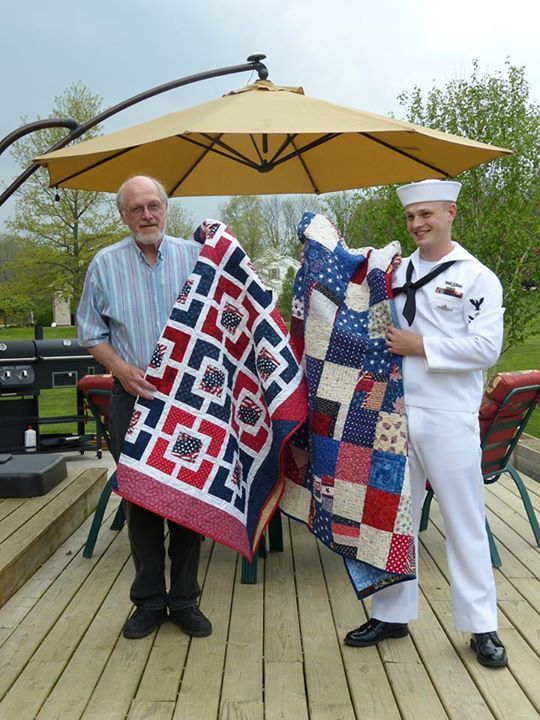 Vietnam veteran and his grandson who is active duty in the Navy receiving their quilts together
Pin It