Pin It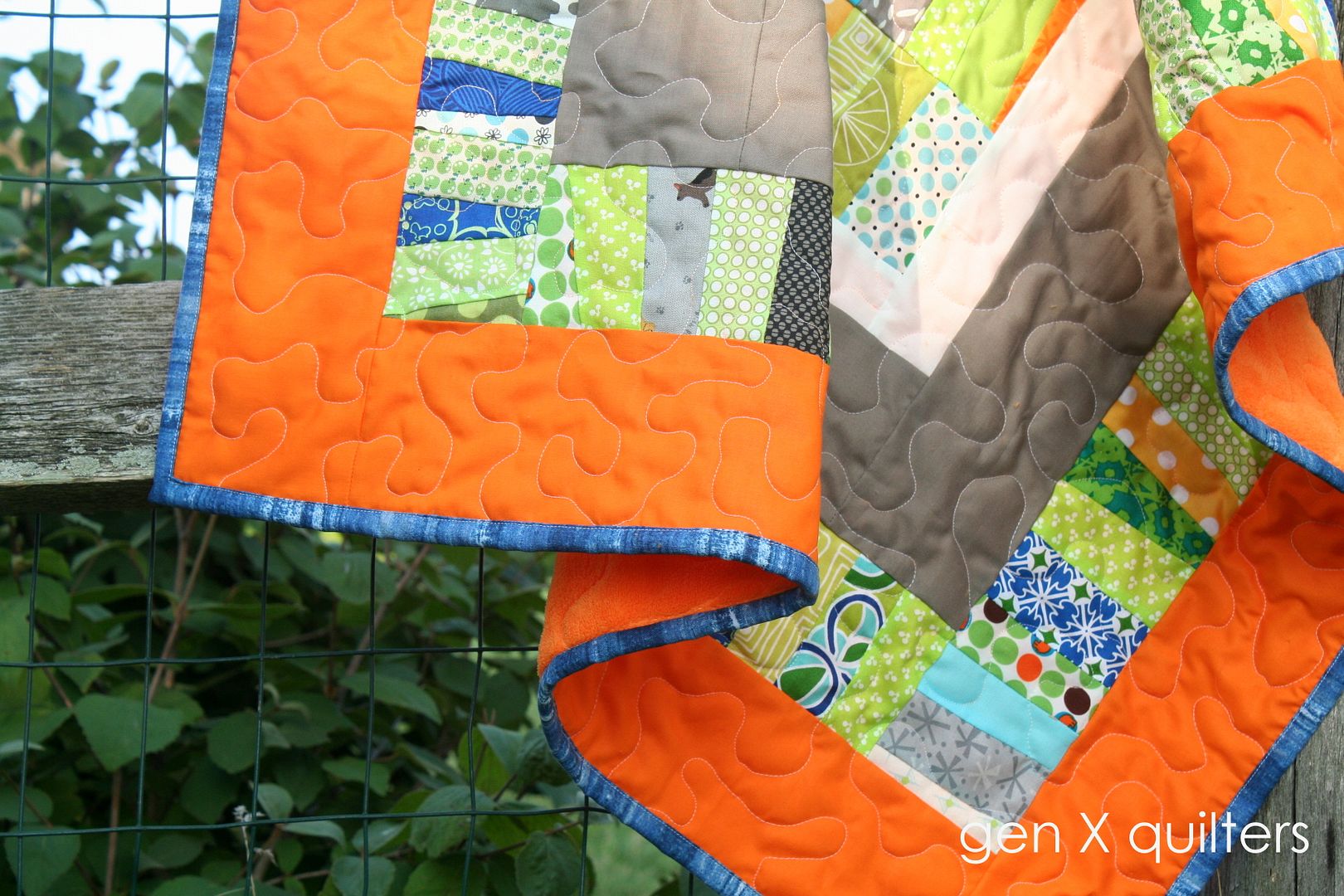 Things have been crazy busy here.... not just the kiddos being out of school and summertime fun. I have been busting my booty behind the scenes on some fantastic stuff. Of course, none of it can be shared here for a bit yet, but it's left me a bit distracted this summer.
My middle man's 5th birthday came and went last week. It wasn't until the weekend that I realized this quilt top, made for him, sat abandoned, shoved into a corner of my sewing room. I felt horrible. I hardly sew for my kids anymore. Maybe it's because they have a bigillon quilts already. Maybe it's because they all fight every night over the same
one
.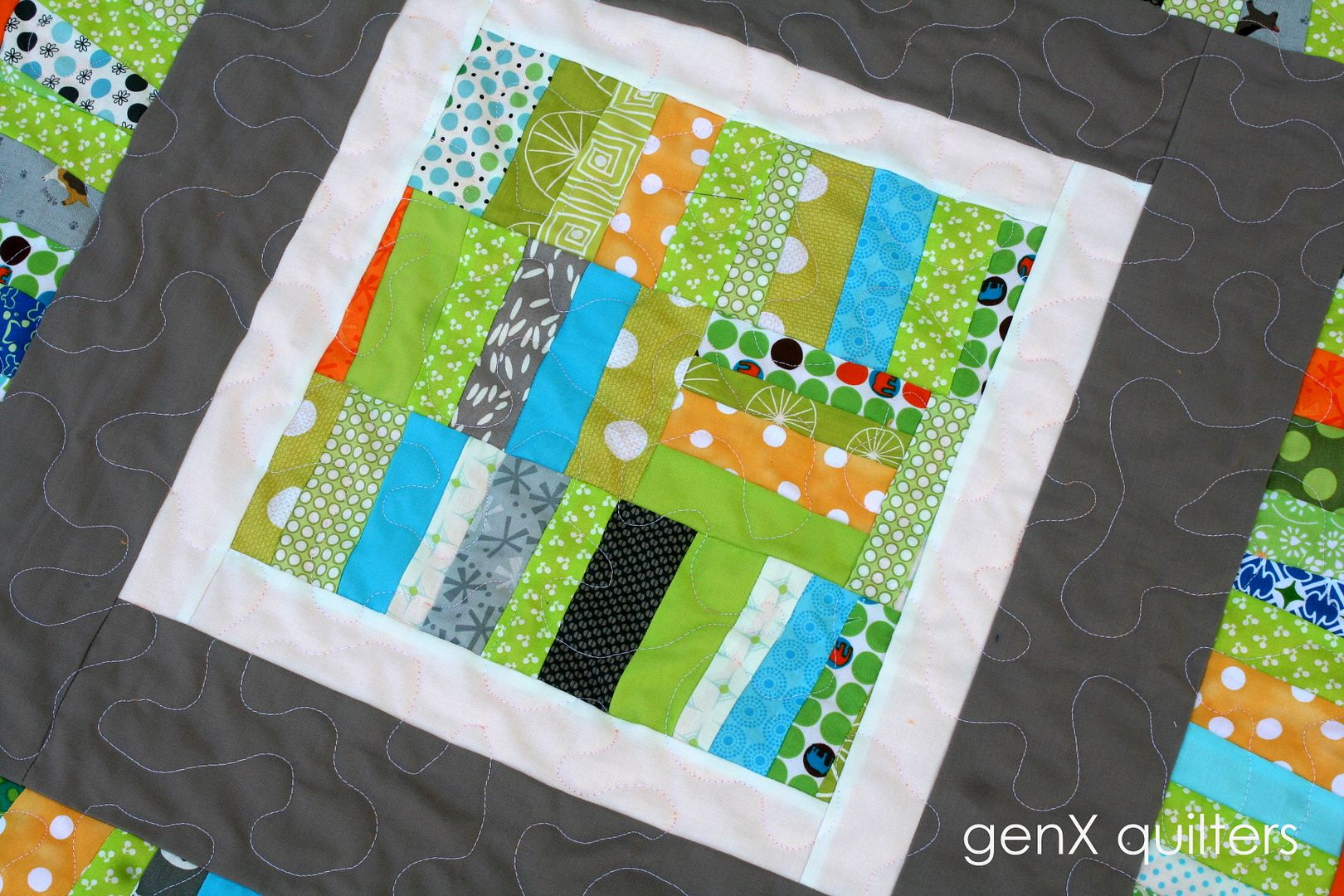 I decided I needed to finish it for him. Even if it was late as a birthday gift.
Remember
this block
I made out of Lu Summer's
Quilt Improv
book? I continued the wonky/improv piecing look in one of the several borders. Overall, I'd say it came out pretty well. I do have a hard time with wonky. It's just not in my engineering blood.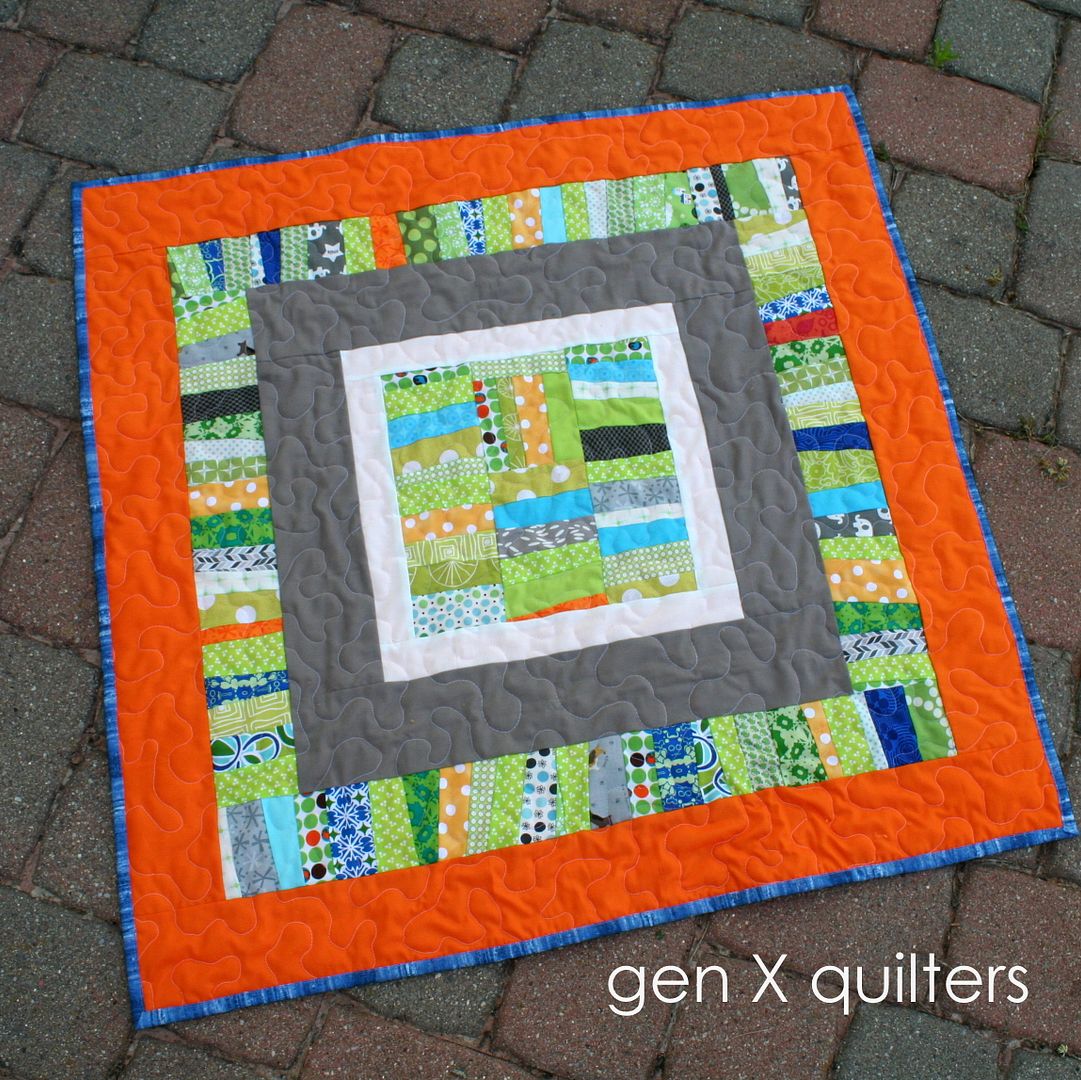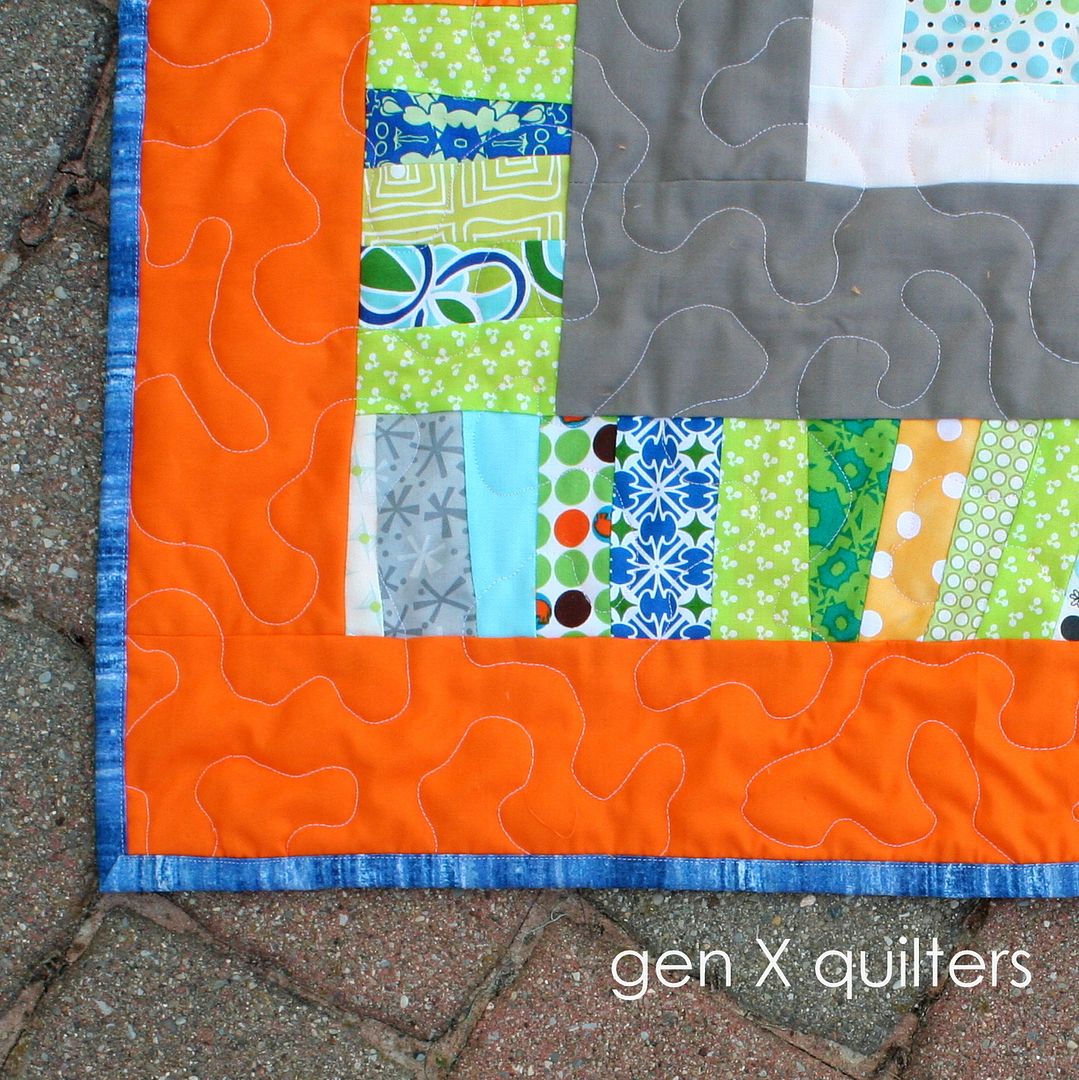 There is minky on the back..... my first attempt at quilting it. There is no batting in this quilt, just the quilting cotton top and the minky on the back. It was definitely a bit of a challenge, which is why I kept it simple with just stippling. I used a
Supreme Slider
on the bed of my machine, which helped slide the minky better. Do you have one of those? It was a
Leah Day
suggestion that I now use every time I FMQ.
He likes it - and that's all that matters, right? I think this is a good quilt for a boy, both in color and design. Nothing too feminine or floral, but still young enough for a new 5 year old.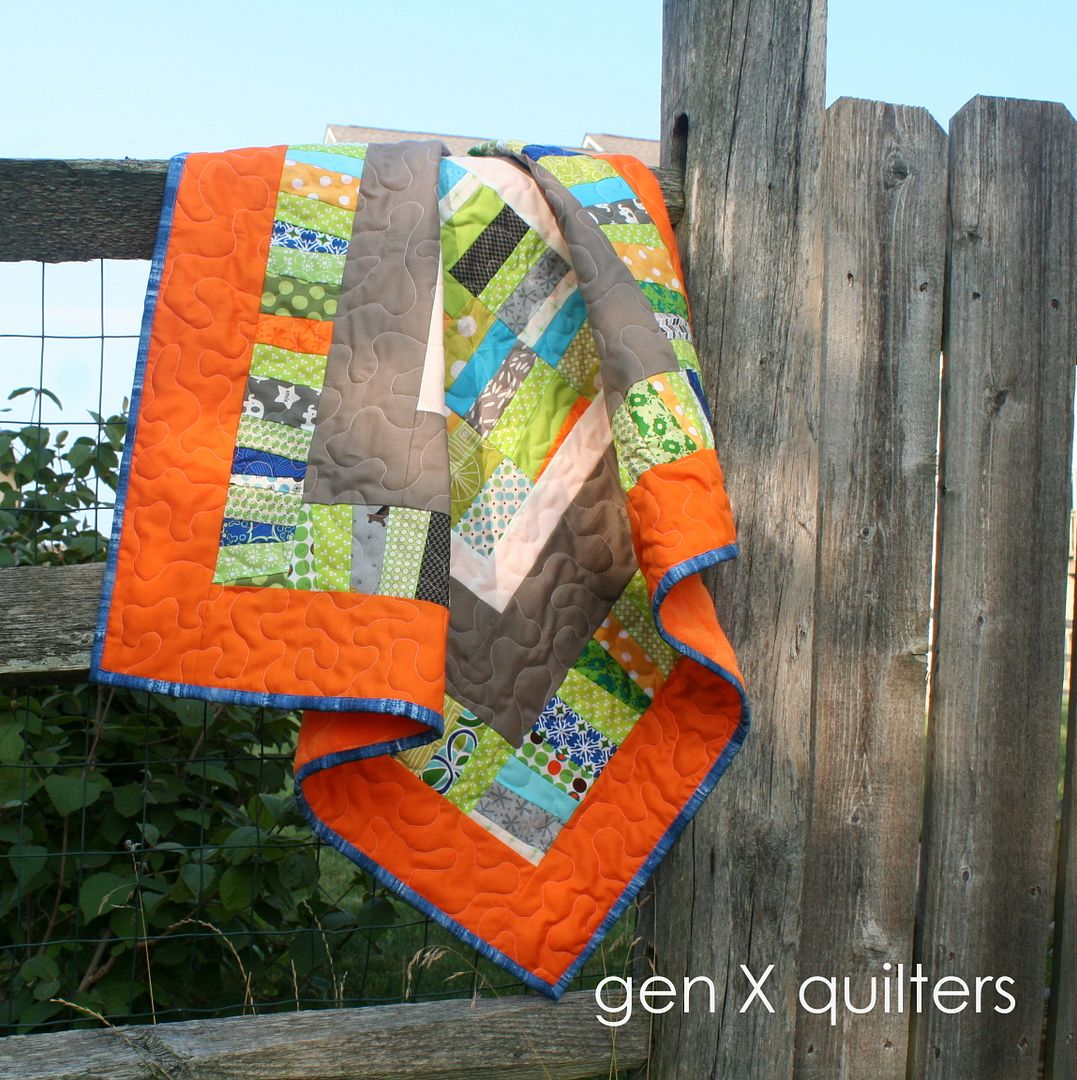 Quilt Stats.
Design: Based on Chain=Pieced Strips Block from Quilt Improv by Lucie Summers
Fabric: all scraps; Orange solid is Pure Elements by Art Gallery, binding is Laura Gunn Edges
Piecing: Me
Quilting: Me. Stipple - keep it easy!
Pin It