Pin It
I am happy to bring you Gen X Quilters' new sponsor, The Loopy Ewe.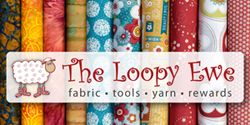 Isn't The Loopy Ewe such an adorable name? Sherri started her shop specializing in knitting and yarns about 8 years ago - and she has now expanded to include quilting fabrics, kits, notions and patterns. For just getting into fabrics last Fall, The Loopy Ewe has a really nice selection of Cloud 9, Birch, FreeSpirit, Moda, Riley Blake, Windham and Amy Butler fabrics. Be sure you stop by if you're ever near Fort Collins, CO.
If you knit, be sure to check out her luscious selection of yarn... :)
The Loopy Ewe also has a customer rewards program for returning customers.
Here is some eye candy for you:
The Charlie Harper Collection by Birch Fabrics
Fox Field by Tula Pink for FreeSpirit
The Loopy Ewe is offering one of their "Short Stacks" (8 Fat Quarters)
in their introduction to you! Oh my, that Grey Abbey stack is my cup of tea. :)
If you would like a chance to win
, enter the giveaway below. (Giveaway ends Friday, April 18, 2014 at 11:59pm)
a Rafflecopter giveaway
Pin It