Pin It
There are a few finishes starting to show up in the Sisters' Ten Block of the Month
flickr group
. For anyone who isn't familiar,
Sisters' Ten
is the BOM I ran last year in 2013. For anyone who is still piecing this quilt or thinking about quilting it, I wanted to show some of the finishes to help inspire you. I love that people are taking the quilt I designed and making it their own!
So first, as a little reminder, this is my finished quilt - the sample from which all the
block patterns
were written. Finishing instructions were given for the modern setting shown below.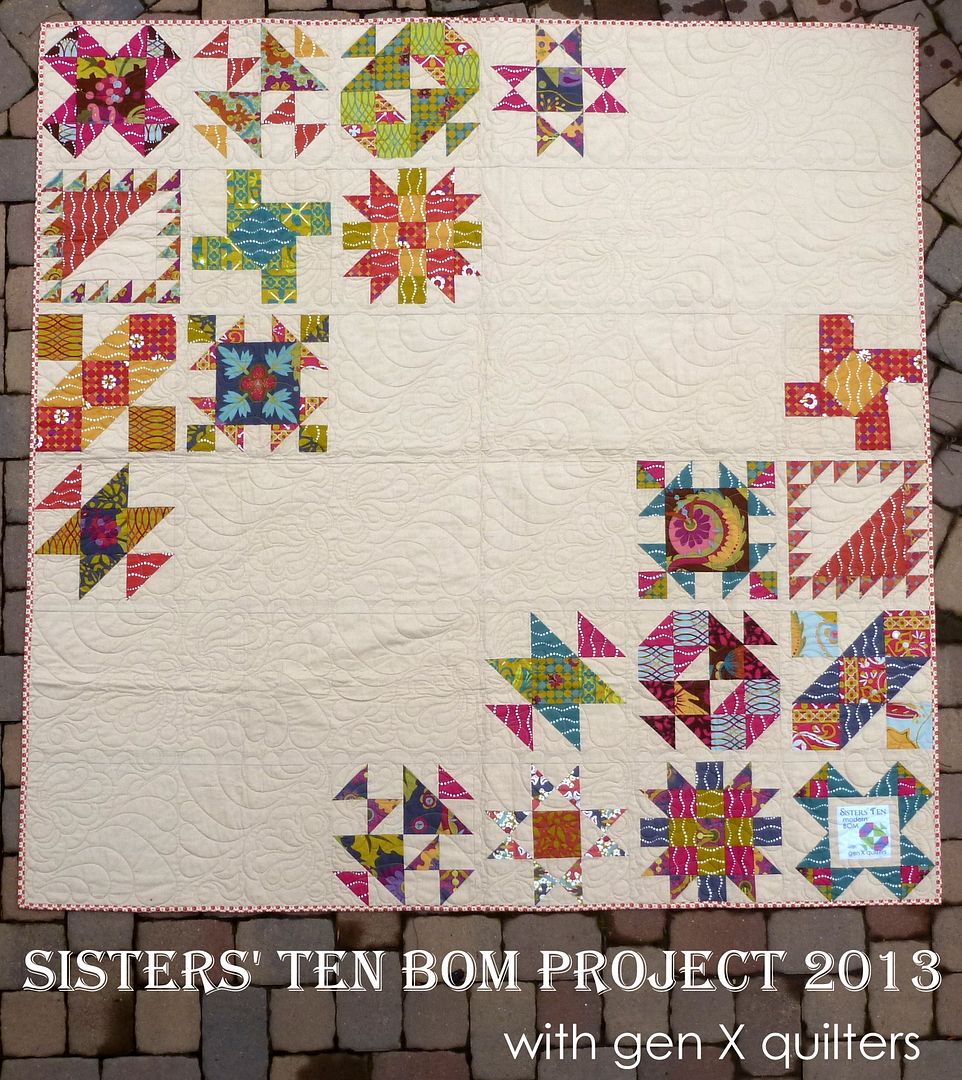 This next quilt was made by Beth of
Yellow Tortoise Quilts
. Beth also made this quilt her own. She omitted the sashing and added 6 additional blocks along the diagonal. She gave this quilt to her sister, and the additional blocks represent their daughters. Isn't that sweet? Also, if you look closely, you can see she straight line quilted on a diagonal in the blocks and then added some fancy work in the middle negative space. So lovely Beth!
This quilt is Ella's quilt of
Throw a Wench in the Works
. Ella finished this quilt waaaaay ahead of time - go you! What I like about Ella's quilt is the completely different color scheme (from the pattern sample). She used cool and modern colors with that neon that I just love. The pink binding really makes it pop. I love how the same quilt can feel completely different with a new palette of color choices.
And the last quilt I want to show you was made by my dear Mom! :) I taught her to quilt in 2010 just before I began blogging - and we have been quilting fanatics together ever since. I wanted to show you her quilt, not only for the beautiful use of the soft yellows and Joel Dewberry prints, but because her zig zag quilting is amazing! I kept getting phone calls and texts with status updates on this endeavor. It takes a lot of patience - but look at how worth it it is in the end!
Also, I wanted to let you know that I have been consolidating all of the
Sisters' Ten patterns
into one large document. I will be taking the individual
Sisters' Ten
block patterns down from my shop and adding only the consolidated document. This will allow for more patterns in my pattern shop! The tutorials will still be on my blog and if you need the individual PDFs of each block, they will be available on Craftsy.
Just wanted to let you know I'd be moving some things around.
If you want to order the individual block PDFs for Sisters' Ten from my shop, please do so within the next week.
As always, if you have any questions, please do let me know!
Pin It