Pin It
I am delighted to bring you Gen X Quilters' new sponsor, Dragonfly Fabrics.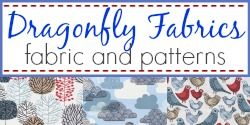 Amy has such a lovely shop over at Dragonfly
... have you visited? Amy has a wonderful selection of quilting cottons and minky. I love that she carries lines you won't see in every other shop - she has a selection of Art Gallery, Blend, Cloud 9, Dear Stella, and Shannon Minky fabrics.
Dragonfly Fabrics also has a SALE every week! This week the sale is 20% off Art Gallery collections Tule and Reminisce. If you're interested in seeing the upcoming sales in the next few weeks, go here (looks like some good year-end deals are coming!)
Another cool concept Dragonfly Fabrics has is a Customer Loyalty Program. The more you shop with them, discounts are applied to your order. Discounts start after your third order. Every penny you save can be spent on MORE fabric! Ha ha!
Oh hey, and speaking of discounts..... this week only, use coupon code GENX15 to receive 15% off your order until Sat. Dec. 21, 2013.
Here are just a couple lines that are carried in the shop:
Caravan Dreams by Josephine Kimberling for Blend
Autumn Wonderland by Elise Renouf for Cloud 9
Lucky Girl from Jennifer Paganelli
If you would like a chance to win this gift certificate
, enter the giveaway below. (Giveaway ends Sunday, December 22, 2013 at 11:59pm)
a Rafflecopter giveaway
Pin It