Pin It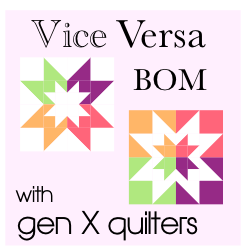 Hi Everyone! I hope you had a wonderful Christmas and are enjoying some family time this week. I just wanted to post a little reminder that the
Vice Versa Block of the Month Club
for 2014 starts in ONE WEEK. Eeeee!
Are you ready? Have you selected your fabrics?
If you still haven't signed up, get your
BOM subscription
at the sale price ($13) until the New Year. On Jan. 1, 2014, the BOM will go up to regular price at $15. The block patterns will also be available individually on the day the pattern is released for $1.50 each.
It's going to be a blast - I hope you'll join us!
Pin It