Pin It
Ok kids! It's almost February.....the month of
LOVE
!! To celebrate and strut our stuff, let's have another quilt contest.
We're looking to see some great inspiration here... (After all, I am secretly dreaming of redoing our master bedroom, but shhh! don't tell my husband!)
The Love Nest Quilt Contest will be a quilt show for
bed size modern quilts.
Quilts must be finished (quilted and bound). No quilt top entries. Anyone may enter (but it helps to follow if you don't already to stay up-to-date with the contest activities!)
How to enter:

1. Write a post on your blog for your quilt entry. If your entry was blogged about within the last two months, you may use that post. Otherwise, please enter an updated post on your quilt for the contest. Tell us all the details... how long did you work on it? What inspired you? Is it from a pattern or your own design? Was this a new technique or block that you tried? Any Ah-ha! moments?
2. Include a link to this page in your post. The easiest way is to just copy and paste the button code right into your blog/post.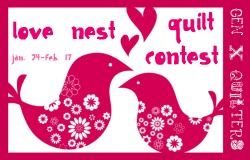 3. After you write your post, come back here and enter it in the linky below. Please make sure to link to your specific blog post (not just your blog) in the linky.
3.5. for anyone who doesn't have a blog, but would still like to enter the contest...
please upload the pic to flickr and add some more detail in the description to give us the quilt story.
You can then use the flickr URL as the link when adding your entry to the linky. (edited 01/31/2011)
4. Submissions will be accepted until Wednesday, February 9, 2011.
5. Blog hop among all the other entries and enjoy others' creativity.
Finding our winners:
VOTE for your FAVORITE!
After the entries close on 02/09/2011, everyone will vote for their favorite!
Voting will take place here at GXQ from Feb.10 - Feb. 16, 2011.
GUEST JUDGES to select the WINNERS!
The top 6 quilts from the public vote will be reviewed by our guest judges. I think you may know them!
Amy of
Diary of a Quilter
(Amy is a fantastic pattern designer - her simple use of color is stunning! Last fall, she did a wonderful (and very detailed) series called "How to Make a Quilt from Start to Finish" for beginners with Make and Takes. It answers all those questions you were afraid to ask. She is very generous in sharing her knowledge and I love her writing style - as she really makes you feel like her friend!
and
Vickie of
Spun Sugar Quilts
(Vickie is one of the original Moda Bake Shop Chefs. She has many patterns published in magazines and she just announced she is a part of the new MBS book Fresh Fabric Treats! All this, and I am fortunate enough to be in the CMQG with her - how nice it is to know someone in real life!)
along with myself
(I only get to be here since I organized this whole quilt show!)
will select the 3 winners from the top 6 quilts.
THE EYE CANDY
half yard bundle of Anthology, 7 prints from
Sew Fresh Fabrics
Central Park Layer Cake by Kate Spain from
Sew Delightful Fabrics
$25 gift certificate to
Above All Fabric
The winners will be announced on Thursday, February 17, 2011. The first place winner will select their choice from the prizes listed above, then the second place winner will choose, and so on.
Pin It