Pin It
What a crazy time of year to wrap up a Quilt Along! Next time I promise I won't do one of these SO close to the holidays. THANK YOU so much to those that participated! I hope you enjoyed working on the quilt as much as I enjoyed designing it. Keep it in mind for all those baby quilts!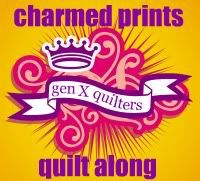 Today I am highlighting those participants who met the criteria of posting a quilt top in the
flickr group
. What a great collection of quilts! This is the Charmed Prints Showcase to date. If you finish one up later one, we'd still love to see it!
I'd like to mention that Jess (
The Elven Garden
)'s quilt is shown in the first 2 photos. She gets an honorable mention because she decided to pebble quilt hers. Isn't it fantastic?! Oi vey, SO time consuming though. Great job Jess!
I also love how
suz&benj
turned her quilt into Tree Pants....great idea! I hope you all had fun customizing the pattern. It sure looks like everyone took advantage of putting their own spin on it.
1.
Charmed Prints quilt top finished
, 2.
Charmed print QAL - quilting in progress
, 3.
Charmed Prints QAL
, 4.
Tree pants
, 5.
Charmed Prints Quilt Along top
, 6.
top close up
, 7.
100_0683
, 8.
A-M QAL 029
, 9.
Finished Charmed Prints Quilt!
, 10.
DSC_1680
, 11.
QAL Finished Top
, 12.
CharmedQAL Finished top
To end all the fun, I have to announce the winner of the Lizzy House "Outfoxed" FQ bundle from
Fresh Squeezed Fabrics
.
I'll be emailing you shortly for your contact info. And thanks again to everyone who played along!
Pin It