Pin It
Well, here we are! The last post for the
Charmed Prints Quilt Along
. Are you ready to finish these puppies up? I'll be telling you exactly how I am finishing up my quilt and referencing you to some other good tutorials for the details on each process. Sound good? As always, be sure to let me know if you have any questions...
BACKING:
Depending on whether you like one continuous fabric used for the back or a pieced scrappy back, there are a lot of options. Unfortunately, I almost always run out of steam by this point, and usually cannot fathom piecing a
second
quilt top for the backs of my quilts. For my quilt, I chose to use a super cool Japanese print featuring Anpanman. Anpanman is a celebrity cartoon show for kids in Japan and has a million different types of merchandising products. My friend brought this fabric from Tokyo's Fabric-town giant Tomato for me this summer.
Whichever method you choose for making your quilt back, be sure to make the back 3-4" larger than your quilt top in all directions.
BASTING: Now that our quilt top is done, we have arrived at my most dreaded step in the whole process. Basting. Ack. Gotta do it! I know that spray basting has been popping up a lot lately and I've used it on smaller quilts such as this one. But for now, breathing any extra fumes just will not do for the growing baby! So it's on my hands and knees with pins that I am basting.
Great Basting Tutorial
HERE
.
QUILTING: On to some fun! Now that your 3 layers are basted together, you can begin to contemplate how to quilt them together. For a long while, I considered myself a beginner and ventured no further than straight line quilting. Minimal, at that. Honestly, this was only a year ago! If you have the patience, there are some fantastic straight line designs you can try.
Then I built up my courage and ventured into free motion quilting. I would still consider myself learning in this area. I've mastered stippling on my home machine and use loopy "Ls" on the mid-arm machine at my LQS. There are so many things to learn and practice here! I've found my comfort zone for now though, and am stippling this baby quilt as well. After all, I want my own QAL quilt to look spectacular, right?
FLANGE:
Add some flair! Sometimes when I finish a quilt, I like to use the same fabric for binding as I do for the last border. On this particular quilt, I wanted to add something a little flashy and fun in between. The flange on the quilt binding was a new-to-me technique, although I have added flanges on blocks for in the Rockin' Robin QAL and really enjoyed them then.
Julie's tutorial
instantly came to mind. I used her method with a very small exception.
I wanted to mention that it is suggested that a large basting 1/8" topstitch is sewn all around the quilt after you complete the quilting. Julie mentions she does this on all her quilts. I think this is a fabulous idea.... I love how this small step adds security to each edge all the way around. I'm definitely going to start doing this on all my quilts.
I differed from the tutorial by adding the 2 side flanges first, then going back and adding the flange for the bottom and top. The tutorial has you pin all 4 sides of the flange in place and then sew continuously until all 4 have been secured. This was just my personal preference - the end look is the same.
Flange Tutorial
BINDING:
Most of the time I am in a great hurry to finish up a quilt. This time, since I used the new flange, I decided to put my binding on the traditional way - stitch to the front, turn and hand stitch to the back. Most of the time, I'm a machine stitch all the way type of girl, but I really wanted the binding to look perfect. (I decided a while ago, I am hanging this quilt up and am not letting it be the pukey playmat for the floor)
I listed 2 great tutorials for binding depending on your preference!
Traditional Binding Tutorial
Machine Binding Tutorial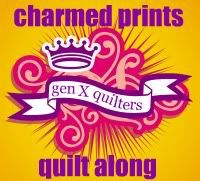 Next week, I'll be showing off the finish photos of my own quilt for the
Charmed Prints QAL
. Next week's linky will be on Tuesday if you'd like to link up a quilt top or quilted finish.
If you enter a photo of a
completed quilt top
to the
flickr group
by 12/20, you will be in the running for the prize drawing. (Outfoxed bundle from
Fresh Squeezed Fabrics
)
Pin It