Pin It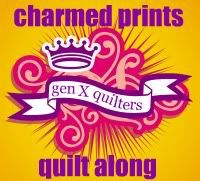 Welcome to the third week of the
Charmed Prints QAL
Link up! Anyone participating in the quilt along may join me in showing some progress on the project over the past week. Don't worry if you're behind - or if you're just getting started!! Please join in on the QAL at any time.
This week two block tutorials were revealed (Star and Greek Cross) and work on the quilt began. I love watching everyone's versions pop up in the flickr group! I made two versions of both blocks. Here they are:
Star Blocks
Greek Cross Blocks:
Thanks to everinprogress, who flipped the outside HSTs accidentally on the Greek Cross block to create Churn Dashes. This is a great classic block, works well framing the fussy cuts and adds another option for anyone out there who may want to add another block to the QAL. Love it!
I hope we have some links this week. Last week there weren't any. Maybe there was nothing to show?
Link up here if you write a blog post about the Charmed Prints QAL. I love hearing about your experiences!
This week we will have the second 2 block tutorials for the feature blocks... tomorrow is the Diamond and Wednesday is the Pinwheel block.
See you then!
And please add any photos you take of your progress to the Charmed Prints flickr group too - half the fun is seeing what others are up to!
Pin It