Pin It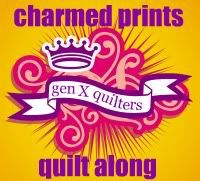 Welcome to the second week of the
Charmed Prints QAL
Link up! Anyone participating in the quilt along may join me in showing some progress on the project over the past week. Don't worry if you're behind - or if you're just getting started!! Please join in on the QAL at any time.
This week we were just getting started with some cutting and layout planning. The cutting is not really my favorite part - but it's good to get it taken care of so when we start to sew, we're off and rolling! Have you ever worked with linen? I am using RK's Essex Linen (available at Sew Fresh Fabrics and Fabricworm) for my sashing. I've used this linen in a number of pouches before, but never in a quilt. I am loving the unique and classy look it gives.
I've had a lot of fun playing with the layout of my charms. I have arranged and rearranged them many times. I find I've also swapped out some of the charms all together from when I originally took this picture! Ah, well.... that's the fun of it, right?
I've marked the charms I want to use for feature blocks though. I'm selecting 8 all together, although this photo only has 7 arrows. I'm undecided on the last feature block as of now.
Thanks to those of you who linked up last week. I enjoyed seeing your fabric selections! Hopefully, more of you will show us what you are thinking this week! Link up here if you write a blog post about the Charmed Prints QAL. The fun part is about to begin!
This week we will have 2 block tutorials for the feature blocks... tomorrow is the classic star and Wednesday is the Greek Cross block.
See you then!
And please add any photos you take of your progress to the Charmed Prints flickr group too - half the fun is seeing what others are up to!
Pin It