Pin It
The Greek Cross is a perfect way to emphasize that center print. Everything about it frames the center. Easy to piece.... Let's go!
unfinished block size: a charm - 5"
finished block size: 4 1/2"
1.
**Use a scant ¼" seam allowance for all seams.**
To fussy cut is to target and cut a specific motif that's printed on fabric, rather than randomly cutting yardage as we normally do. From About.com.
Fo 1. Following the table below, cut your selected charm square down to a 2" square, making sure to fussy cut the elements you would like to include in that reduced size. Also, cut the appropriate number of coordinating print squares/rectangles and sashing needed for the block.
Greek Cross Block Cutting Requirements
2.
Make Half-Square Triangle (HST) Units:
Take the 2 print
2 3/8" squares and draw a line diagonally from one corner to the other. Pair the print 2 3/8" square with a sashing square of the same size, right sides together. Stitch 1/4" away from the center drawn line, on both the left and right sides of the drawn line.
3. Cut the HST units apart on the center drawn line. Repeat to yield 4 HST units.
4. Press each HST unit with seams toward the print.
5. To make the cross frame, place one
2" x 1 ¼" sashing rectangle and one
2" x 1 ¼" cross frame print right sides together and sew along the 2" side using a 1/4" seam. Press. Repeat to make 4 units.
6. Layout each of the 9 patches for the block in the pattern shown in the top final photo. Sew the block together in 3 rows first. Then sew the top 2 rows together. Finally, sew the last row to the top two using 1/4" seams throughout.
Don't forget to add photos of your completed blocks to the flickr group!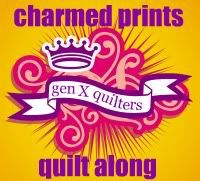 Pin It