Pin It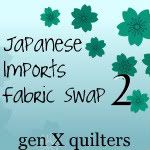 The Swap is now filled. If you didn't get in, leave me a comment here. If there is enough interest, I'll consider running 2 rounds. (Am I crazy??)
I mentioned in a previous post that I am planning a Quilt-Along.... well, I'm going to use the fantastic charms received in the first Japanese Imports Swap. It is such a unique collection of prints!
I thought I would host another one of these swaps hopefully to get you excited about a Quilt Along! If you just want to hoard the
lovelies
you get in the swap that's ok too... I guess... :)
Here's a little teaser... the charms swapped in the first round....
I like having those small squares to add some unique flair to those little projects, bee blocks, etc.
Anyone game?
Gen X Quilters' Japanese Imports Fabric Swap 2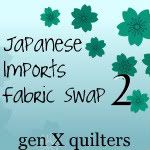 This is an opportunity to join a centralized swap to send in 1 yard of Japanese Import Fabric and receive a Charm Pack of cute Japanese Novelty prints in return.
Fabric Details:
1. Each swap member will purchase 1 yard of Japanese Import Fabric. Fabric may be 100% cotton or a linen/cotton blend. Fabric must be new and unwashed. When purchasing fabric, please consider that the yardage will be cut into 5" charm squares and that large prints may not be desirable once cut down to size. The I-spy theme should lead you to purchase cute, kitschy, novelty type prints (very typical of Japanese Imports!). Please buy from a well known reputable shop (there are imitations out there).
Before sending to me, fabric must be cut into Charm Squares (5" x 5" squares). 1 yard = 56 charms
Elizabeth Hartman has a great tutorial for cutting yardage into charms
here
.
2. Send a 3" x 5" index card with your name printed at the top. Next list the Fabric Manufacturer and the Print Name/Color (i.e.
Kokka Japan, Dress Up Dolly Natural)
.
Examples of Japanese Import Fabrics perfect for I-Spy Charms! Available at Fabricworm.
Shipping Details:
1. Your package of 56 charm squares and 3" x 5" index card should be placed in a ziploc bag to protect the fabric. The going rate according to most etsy shops I surveyed for shipping a charm pack is roughly $2.50-$3.
2. Included inside your package, please put another Self-Addressed Envelope for me to mail the swapped fabric back to you. Please put the amount of postage needed to get the swap back to you on your Self-Addressed Stamped Envelope.


3.
There will be a shipping and handling charge of $1.00 to have the swap sent back to you. (This helps me cover the P.O. Box rental fee.) Please include the dollar in your ziploc bag. Payment must be complete prior to the shipment of your package!
Once I receive every one's Charm Squares, I will sort them out and give you back an array of new Japanese Novelty Charms for you to try!
This swap will be limited to 28 participants. With 28 participants, each person will receive 2 charm squares from each participant's package. Sign ups start today and end when the cap is reached.
Charms must be mailed to me by Tues. Nov. 8, 2011.

I hope to have the packages back to you within 1 week in order to be ready to join in the Quilt-Along!
(Participants must be in the U.S. or Canada please.)
To Sign up for the Japanese Imports Fabric Swap:
Sign ups start today!! Do not hesitate - these swaps tend to fill up quickly.
Fill out the FORM HERE.
The swap is filled. If you still have interest, leave me a comment here. I'll consider 2 concurrent rounds if enough people want in!
grab a button (at the top) and leave a comment so we can see who's in!
Fabricworm
is one of the largest sources of Japanese Import Fabrics online, so be sure to check it out!

Pin It