Pin It
Before I get to the BIG GIVEAWAY, I wanted to mention that a couple people have asked if it's still ok to join the
CHARMED PRINTS QAL
if they would like to make smaller projects. Maybe you don't have time for a whole quilt right now... it is
ABSOLUTELY OK
to quilt along with us if you'd like to make a mini quilt or table runner, etc. I'd love to have you! Join us in the
flickr group here
and watch for the fabric requirements and schedule on Nov. 1st!
Now, on to the GIVEAWAY!
Check out my
review and tutorial
to learn more about this product and see the Baby Changing Mat I made using the adorable ric rac die.
GiveAway / Here's how to enter:

1. leave a comment on this post - pehaps tell me which die is your favorite (one entry)

2. sign up to get 22 FREE patterns from Accuquilt by following this link, all you need is an email address... come back here and leave an additional comment that you signed up. (one entry)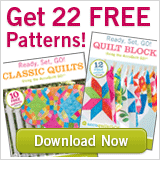 ** please be sure that an email address is available on your profile or is included in your comment if you are a no-reply blogger**
Enter by Wednesday, November 2, 2011 at midnight EST. A winner will be randomly drawn on Thursday.
Pin It