Pin It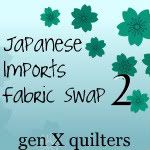 There are only TWO spots left in the Japanese Imports Fabric Swap!!! Sign up today to be included!
The swap is now filled! Thanks everyone!
For those of you who are already signed up, I'll be emailing the group confirmations/mailing details in a day or so. Can't wait!
It's time to announce some winners!
The winner of The Devil's Puzzle by Clare O'Donahue is Stray Stitches! There were lots of wonderful ideas about murder-mystery block names in the comments. What fun! There are actually a ton of blocks that would make good books. My favorite is Buzzard's Roost.

Stray Stitches said...6
A block that sounds like it could be a mystery title is Moon Over The Mountain. Thanks for the opportunity to enter your great giveaway!
Also, last week's winner of Deploy That Fabric never contacted me, so I am choosing another winner today. The new winner is Laura!
Laura said...
Wow, I'm never the first poster! lol Anyhow, love your site and giveaway! I have had this book on my wishlist from the first day I heard about it! I have friends and family either currently or retired from the various armed forces. This book will give me the info to make some cute (the guys might not like that word -lol) how bout awesome gifts! Thanks so much for the giveaway!
Pin It