Pin It
Hello Sunshine is FINALLY finished! The individual x-block used in this quilt has always reminded me of a railroad crossing sign. So for this quilt's finish photo shoot I decided to head to a historical village with some railroad nostalgia.
This quilt is queen sized for our master bedroom. It's the first one I've made for our bed. Yikes! I can't imagine doing a king - this was big enough for me! I started with a half yard bundle of 10 Nicey Jane prints that I received for Christmas. I absolutely love how it pairs with the Kona Maize - it's so cheery and bright.
What started out as an x-block has a lattice effect when you look at the whole piece put together. I think it was the right choice for the garden and vintage-y florals of the prints.
I was trying to learn how to use EQ7 when I designed this quilt (that was also a xmas present). After having done a couple designs with the software, I have noticed it seems to overestimate yardage requirements. When I first started this quilt, it was only to be lap size, 16 blocks. I ended up making 42 - 14" blocks for the queen.
I quilted it at my LQS on a HQ Avante. I love working with that machine! It makes doing a large quilt so easy. It only took me about 1.5 hours to quilt the whole thing.
I know you can't see very much of the quilt, but I just love this bench shot.
I uses one of the green prints for the binding, and struggled with whether I should hand or machine bind it. In the end, getting it done quick won out.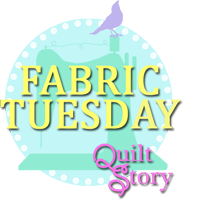 Pin It