Pin It
So I've been working on some of these mini quilts to take the opportunity to practice free-motion quilting. This basically means I want to perfect my stipple. I've come a long way..... but I've still a long road to go too.
This one features a Metro Cafe print from
Suzy Ultman
. Super cute! I love the way the gingham brings out the blue coffee cup.
I even cut out a few cups and raw edge appliqued them on the border. A little bit of spring colors to go around. This mini quilt was a gift for a friend.
Quilt Stats:
Name: Cafe
Size: 21" x 21"
Design: framed blocks with little applique
Piecing: Me
Quilting: Me - Stipple on my home machine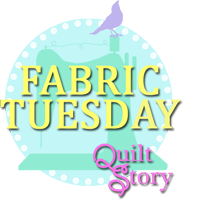 Thanks for a fun discussion yesterday on Tattoos and Quilty Tattoos - it was SO fun reading all your comments!
Pin It