Pin It
Yay for Friday! Thank you to everyone who took the time to share a little about themselves and their birthday yesterday. It has been fun reading your stories! I'm stuffed full of birthday cake - don't you love cake for breakfast sometimes? Anywho, let me tell you who won the Wonderland FQs before we kick off Follower Friday. It's "Jennifer"! Congrats!
When I turned 18, I got a used guitar from my parents and played it all the time with a good friend. That friend has now passed away and I will never get rid of that guitar....even if it hasn't been touched in 6 years....best present ever.
I'll be sending you an email shortly Jennifer. What a wonderful memory.
Today Kelly of
Bluebird Sews
is our feature - she is a relatively new blogger and has an impressive First if you click over and check out her Finished Quilts! She is starting up a cool new linky party called
Eat, Grow, Sew
in May, so stay tuned to be inspired. Let's learn more about her...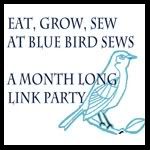 Kelly of Portland, OR
Occupation: Stay at home Mom & Wife
Significant Other/Kids/Pets: Wife to an electrician husband, mom to a toddling 1 year old boy & a 4 yr old vizsla mix who thinks he's a puppy
# Years Quilting: 17 years because I made my first quilt at 15 years old!
How you learned to quilt: Completely self taught with help from my older sister who I started quilting with. By reading quilt books, magazines and recently blogs I have gleaned good info for techniques and tricks for better piecing and of course patterns.
Favorite Completed Project Description: Just this year I discovered modern quilting and the blog world of quilters. I quickly absorbed what I was finding into my quilt repertoire and made my first modern quilt. The fabrics I used were some of my favorites left over from another quilt I made. I set them in white and binded it with red polka dot fabric. It turned out so cool and it has really re-sparked my love of quilting and all things set in white!
Quilting workstation setup: I live in small house with a full basement and that is where my craft cave is. It has evolved in the past 6 months to be a well lit and functional space. The best part about my space is my sewing machine table is set to look into the room and not at a blank wall, I like that. There is a ton of storage sprinkled throughout the room and the other great piece is the big dark wood table top I got my from Grandpa's attic, you can never have enough counter space. The one thing I'd change is my ironing board placement. There is only one good spot for it and it's all the way across the room from the sewing machine which makes for a lot of trips back and forth.
Machine(s) you sew on: I just upgraded my sewing machine to a 1985 Viking Husqvarna 980 Prisma named Astrid which runs like a dream and has a huge throat space for wrangling quilt tops through. I scored it off craigslist on a fluke and I love it.
Your favorite notion/tool in your sewing room: my 1/4" piecing foot. It has improved my piecing accuracy by leaps and bounds and was worth every penny I spent on it.
To keep up with Kelly and all that she's up to, visit her blog
BluebirdSews
or new
etsy shop
.
If you would like to be featured on Gen X Quilters' Follower Friday, send your information (listed under the Follower Friday page at the top) to annemarie@genxquilters.com. Happy Friday!
Pin It