Pin It
My mom came down to visit a couple weeks ago, and when she comes, we have started making a little sewing project while she's here for a few days.
This time, my mom wanted to make mug rugs. So that's what this mini quilt started out as. Everything just fell into place - and it definitely couldn't be contained in just a mug rug. It wasn't intended to be an "Easter quilt", but I couldn't resist posting it now.
I have done a couple mini quilts (that I haven't had a chance to post yet!) to practice my free motion quilting. This is the first. All that practice I did drawing on paper for the long-arm machine totally paid off on my home machine. I still need to work on curviness, but hey, I'm just happy about making it through the quilting with no cussing or head banging!


I don't know why it has taken me so long to feel comfortable FMQing on my home machine. Something in my brain clicked and now I know exactly how to adjust my machine to get it right. At least I found it, right?


Quilt Stats:
Quilting: Me! Stipple on my home machine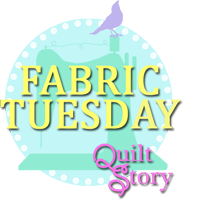 Sew Delightful Fabrics
is having a sale, taking 30% off your entire order. That's in addition to Kristen's already low prices. Where else can you find a layer cake for $17.50?
Pin It