Pin It
I AM SO EXCITED! I suddenly felt the urge to start an embroidery project...
(I think I am realizing as I write the reason: quite a few people bring their handwork to the CMQG meetings. But since I lead everything, I really can't do something else on the side... But their stuff looks fantastic... Anywho!)
I was inspired and decided to give it a try! Here's what I came up with...
It little while ago, I found the
Wee Wonderfuls
site while browsing for ornament ideas for the Ho-Ho-Holiday Swap. I ended up making one her free patterns for my partner.
I saw a bunch of other
super cute free projects
while I was there and remembered this little Elf Stitchette pattern when I was struck with the embroidery bug. The pillow is completed by some prints from the 12 Days of Christmas line.
There is also an adorable little boy elf that I think I may have to make to keep her company.

If anyone else knows of any cute embroidery sites, I think I may have started a new little habit....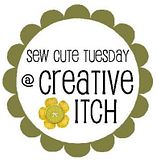 Pin It