Pin It
Happy Friday! Are you starting to get in the holiday spirit? I certainly am with all the seasonal posts cropping up all over blogland. I think a local radio station is already playing Christmas music too?!
In the spirit of giving....
Are you participating? I sure am! You choose the quilt AND the charity, then link up to win giveaways!
Can you squeeze in just one little baby quilt this season for a child??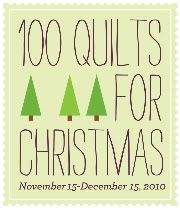 And now for our Follower Friday feature on Miss Aunt Spicy herself!
Aunt Spicy.
So named by my niece, and my most favorite nickname so far!
City, State: Half way between my two favorite cities Los Angeles and London!
Occupation: Professional fabric hoarder.
Number of Years Quilting:
I am not sure how long I have been quilting. About ten years ago my Mom and I made a tie quilt (old-school style, with quilting frames), and I was making baby blankets around that same time as well. But I think my first real quilt (larger than a baby blanket) was one I made for a friend who had moved to England. I wanted her to have something bright through the winter, something to remind her of California and friends and family who love her. I just kind of made up the pattern, using some of my first "designer" fabrics and a sheet from Anthropology for the back. I was so smitten with it, I made two more for another friend and her daughter!
Hand or Machine Quilting: I am super lazy, machine all the way!
How did you learn to quilt: Watching my Mom, she is genius! I have distinct memories of falling asleep to the sound of her sewing machine in the other room!
Favorite project:
Can anyone choose a favorite project? Isn't that like choosing a favorite child? Here's just one....
Other interests: In addition to discussing fabric designers as if they were on a sports team, I tend to also discuss clothing and home decorators with as much ease. Though if you want to pit me in a discussion more heated than a political debate, well just challenge me on the ranking of handbag designers!
Workstation setup: Nothing fabulous, my sewing has taken over my entire super-tiny living room, fabric is stashed everywhere my shoes aren't, and the machine is set up on the table. I dream of someday having a whole room dedicated to crafting, with big bright windows and space to lay out something larger than a baby blanket! Someday!
To check out what Aunt Spicy is up to or for details on 100 Quilts for Christmas, visit her blog
Aunt Spicy
. Hope to see you at the 100 Quilts for Christmas link up!
If you would like to be featured on Gen X Quilter's Follower Friday, send your information (listed under the Follower Friday page at the top) to annemarie@genxquilters.com. Have a great weekend!



Pin It