Pin It
I'm very excited to be participating in Jennifer of That Girl.....That Quilt's "
That Quilt Along
" - it's a first for me!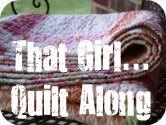 I debated about selecting a charm pack.....and realized none of them were calling out to me. So, I decided to try to make use of my stash. I cut four FQs into a charm pack (fussy cutting one of them even!) and ordered my Kona Solids online.
Does anyone else have trouble picking out the right color online?? I saw that they offer those color charts for around $15 - I wonder if that makes it any easier...
I heard the mail truck pull up (somehow you can't miss it, even as a kid, our mail truck had the same loud seemingly-broken muffler) and went running out. Ripped open my package...... and........ oh. Slightly disappointed.
2 yds. Kona Pond and 1 yd. Kona Snow. Not sure Kona Pond is exactly what I had in mind. Any thoughts? Should I reorder something else? It's only too late once I start cutting.... Here's another pic without Pond if you need a fresh point of view... Opinions please?!?!
Pin It