Pin It
So you know I'm new to blogging (I am loving meeting new people I would never have "met" if not for blogging!)... now I'm finding out about all this cool online stuff I never paid much attention to. I'd like to blame it on having an infant or toddler on my lap while sitting at the pc for the past 4 years.... but that's not entirely true.
Anyway....
I've finally discovered Flickr and I thought it would be perfect for Gen X Quilters. GXQ now has a new
Flickr group
as a way to hopefully include those who do not have blogs and/or anyone else who is interested.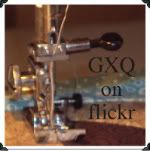 I would LOVE to see your work! Hop on over and share it with us.
Pin It